No Line-Drawing Role? Jump In Anyway: Ballots & Boundaries

The governors of Florida and Pennsylvania have broken with redistricting tradition by putting forward their own congressional district maps.
Pennsylvania's Republican-led legislature is poised to give final approval to a map (S.B. 2146) that Gov. Tom Wolf (D) opposes. To get ahead of that, Wolf published a map of his own, along with one drawn from citizen submissions, to demonstrate the kind of configuration he wouldn't feel obliged to veto.
Monday's the deadline to submit maps to the Commonwealth Court of Pennsylvania, which will choose one if the governor and Republican legislators can't reach an agreement by Jan. 30. The court also could change Pennsylvania's spring primary election schedule.
In Florida, a plan submitted by Gov. Ron DeSantis (R) wasn't considered by the GOP-controlled Florida Senate that passed its own congressional map (S.B. 102 and S. 8060) yesterday. Most Democrats voted for the Senate plan, and Senate Minority Leader Lauren Book (D) urged the Florida House to ignore the governor's "brazen" move.
Florida gains a seat in the U.S. House this year, while Pennsylvania loses one. — Jennifer Kay
(Was this newsletter forwarded to you? It's free. SUBSCRIBE )
KENTUCKY: OVERRIDE
The GOP-dominated legislature easily overrode Gov. Andy Beshear's veto of a congressional map designed to preserve a 5–1 Republican advantage in Kentucky's U.S. House delegation.
The map boosts Rep. Andy Barr(R), whose central 6th District in and around Lexington will become more Republican-friendly in part by transferring the state capital of Frankfort to the western 1st District of Rep. James Comer(R).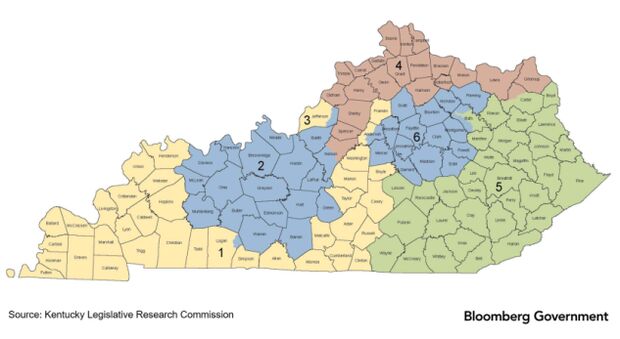 Beshear (D) said in a Jan. 19 veto message that the map "reflects unconstitutional political gerrymandering" and someone driving 75 miles from Lexington to Louisville would cross five of the state's six districts. The Kentucky Democratic Party is challenging the map in state court. — Greg Giroux
KANSAS: DEMOCRAT TARGETED
Kansas Republicans unveiled a congressional map that would imperil Rep. Sharice Davids, the lone Democrat in the state's congressional delegation.
The proposal would shift most of Democratic-leaning Wyandotte County out of Davids's 3rd District in metro Kansas City and into the Republican-leaning 2nd District of Rep. Jake LaTurner (R), who represents Topeka. Davids was re-elected 54% to 44% in 2020 over Republican Amanda Adkins, who's running again this year.
The legislature's GOP supermajorities would be able to override a veto from Democratic Gov. Laura Kelly. — Greg Giroux
NEW YORK: CLOCK TICKING
It's looking less and less likely that New York's independent redistricting commission will draw its own state legislative and congressional district lines.
Tuesday's the deadline and no meetings have been scheduled. State lawmakers rejected initial maps from the 10-person panel, and if there's no new commission map, the legislature (led by a supermajority of Democrats) gets to take over. — Keshia Clukey
MISSOURI: MUSCLED THROUGH
Backers of a congressional map that likely would send six Republicans and two Democrats to Congress got their plan through the Missouri House.
The redistricting measure would leave intact the safe Democratic district of Rep. Emanuel Cleaver and would shore up Republican Rep. Ann Wagner's GOP-leaning 2nd District in the St. Louis suburbs. Next, the state Senate gets its say. — St. Louis Post-Dispatch
Voting Systems
ALASKA: BIG CHANGES
Alaska may proceed with its new open primary and ranked-choice voting system.
The state Supreme Court upheld a lower court ruling that rejected a challenge to a statewide initiative, approved by Alaska voters in 2020, that replaces partisan primary elections with an open primary election under which the four candidates receiving the most votes advance to the November election. Voters will be able to rank the general-election candidates in order of preference, rather than choosing just one.
Alaska's 2022 ballot will include U.S. Sen. Lisa Murkowski (R), who faces a Republican opponent endorsed by former president Donald Trump, and Rep. Don Young, the longest-serving House Republican in history. — Greg Giroux
GEORGIA: REBOOT
Georgia is getting a new voter registration system to enhance security and make it easier to retrieve data, according to Secretary of State Brad Raffensperger.
The existing system was blamed for slowdowns during the first few days of early in-person voting in the 2020 primary.
Georgia's election procedures have been a subject of contention, climaxing with intense criticism of Raffensperger by fellow Republicans who believe he didn't do enough to overturn President Joe Biden's victory in 2020, followed by a restrictive new election law that knocked Raffensperger off the State Election Board. — The Associated Press
Caught Our Eye
The stage is set for a bruising GOP primary in Tennessee's 5th Congressional District in an effort to topple incumbent Democratic Rep.

Jim Cooper

. (Axios)
A new Missouri congressional map approved by state House lawmakers could mean a delay for the August primary. (The Associated Press)
Resources
Add Us to Your Inbox
Click HERE to sign up for Ballots & Boundaries, your check-in on redistricting and state voting laws.
To contact the reporters on this story: Jennifer Kay in Miami at jkay@bloomberglaw.com; Greg Giroux in Washington at ggiroux@bgov.com; Keshia Clukey in Albany, N.Y. at kclukey@bloomberglaw.com
To contact the editors responsible for this story: Tina May at tmay@bloomberglaw.com; Katherine Rizzo at krizzo@bgov.com