New York Democrats See Opportunity to Curb Cuomo's Veto Clout
Larger caucus would make it easier to override vetoes
Tax on wealthy a 2021 goal for legislative Democrats
Bloomberg Government subscribers get the stories like this first. Act now and gain unlimited access to everything you need to know. Learn more.
Democrats are positioned to pick up a second supermajority in the New York Legislature, giving lawmakers leverage against Gov. Andrew Cuomo when it comes time to negotiate hard choices about taxing and spending.
Cuomo (D) has had a sometimes-cooperative, sometimes-contentious relationship with the legislative branch of government, clashing over education, how to spend new revenue if recreational marijuana becomes legal, and other priorities.
Democrats already have a supermajority in the state Assembly, and could do the same in the Senate by adding two seats in the Nov. 3 election, plus keeping the 40 seats they hold in the 63-district Senate.
"It means we have an extra lever at our disposal should we need it," Senate Deputy Majority Leader Michael Gianaris said in an interview.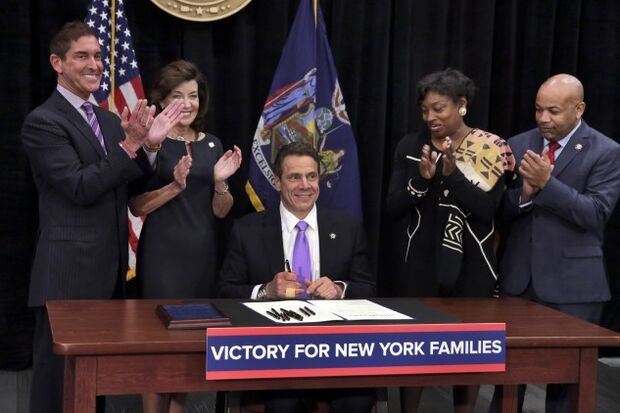 "The Senate's ability to overturn a veto would weaken the force of a veto threat, which in turn would change the bargaining dynamic inside a closed room," said Michael J. Malbin, a political science professor at Rockefeller College.
The most pressing negotiation next year will be over a projected deficit that could top $15 billion.
New York state restricts the type of amendments the legislature can make to the executive budget and it gives the governor a line-item veto over appropriations bill. Each chamber requires a two-thirds vote to overturn the governor's veto.
Traditionally the state's more than $175 billion budget package is negotiated by Cuomo and the top leader of each chamber, long known as "three men in a room." That phrase had to change after Sen. Andrea Stewart-Cousins (D) became the Senate majority leader, but the process remained the same.
Wealth Tax
If Senate Democrats get more power, raising taxes on the ultrawealthy — something Cuomo opposes — is at the top of the legislative to-do list, Gianaris said. "Leaders of both houses have publicly declared very strongly that they support raising revenue from those who can afford it," he said.
There's also an appetite to make changes in transportation funding, as well as potentially altering the education aid formula, said Bruce Gyory, a Democratic political consultant at Manatt, Phelps & Phillips, LLP, and adjunct professor of political science at the state University of Albany.
"You'll see it manifest on almost all major issues. It won't just be one," Gyory said.
State Sen. Alessandra Biaggi (D) and several other lawmakers would like to change the budget process entirely. Biaggi is sponsoring a bill (S.8198A/A.9100) that seeks to amend the state Constitution and allow the Legislature to play an equal role with the governor.
"We can actually take back power from a governor who has exerted tremendous power over the legislative process while also working against policies that really the majority of New Yorkers want," Biaggi said. "It will really take the teeth out of the executive's exertion of power and pressure that usually happens behind the scenes."
Biaggi also would like to scale back additional powers that were given to Cuomo in March. The legislation, which allowed him to quickly address problems associated with Covid-19, sunsets in April 2021. It should end "much earlier," Biaggi said. "We've got to restore checks and balances."
Moderating Force?
Nick Langworthy, chairman of the state Republican Party, said he's worried the Democrats will push what he called far-left policies such as single-payer health insurance. "There's no moderating force anymore, and there are some members of the state Senate that are pushing for very radical proposals," he said.
"In a strange way, I'm certainly no fan of our governor, but he might be the only moderating force if something like that happened, because they could drive these proposals without the governor if they had these kind of strings," Langworthy said.
After ending a decade of Republican control of the state Senate in the 2018 election, Democrats pushed through a climate action plan, codified Roe v. Wade into state law, and added gun restrictions.
"One Party Control has been disastrous in New York and residents want to restore balance by electing Republicans to the state Senate," Senate Minority Leader Rob Ortt (R) said in an emailed statement.
Need for Balance
Having two supermajorities wouldn't necessarily be easy for Democrats in Albany.
Senators would have to get on the same page as the Assembly Democrats and each other, said Craig Burnett, an associate professor of political science at Hofstra University. "If you get the 42, you have to bring all 42 with you," he said — not a simple thing in a caucus representing a full range of constituencies from the Big Apple to upstate farms.
A veto-proof majority "assumes that everybody is of the same mind," Burnett said.
Plus, senators who barely win their districts may want Cuomo's help raising money for the next election cycle. "If 2020 looks the way we think it looks and it ends up being a very good year for Democrats, in 2022 expect at least some pushback against the Democratic agenda," he said.
Cuomo Campaigning
If Cuomo's reluctant to see another supermajority, it doesn't show. In the runup to the elections, he has hosted multiple fundraisers for Democrats in key Senate districts, including on Long Island.
"We've accomplished a lot together for the State of New York and I can't think of anything the legislature would pass that we wouldn't sign," said Cuomo spokesman Rich Azzopardi.
To contact the reporter on this story: Keshia Clukey in Albany, N.Y. at kclukey@bloomberglaw.com
To contact the editors responsible for this story: Katherine Rizzo at krizzo@bgov.com; Heather Rothman at hrothman@bgov.com
Stay informed with more news like this – from the largest team of reporters on Capitol Hill – subscribe to Bloomberg Government today. Learn more.