Look Who Might Get a SCOTUS Shout-Out: Ballots & Boundaries
Bloomberg Government subscribers get the stories like this first. Act now and gain unlimited access to everything you need to know. Learn more.

We'll be curious whether Rep. Nancy Mace, in the news for her surprise vote to oust Speaker Kevin McCarthy, gets a mention at next week's Supreme Court redistricting arguments.
The justices are hearing the appeal of a ruling that struck down South Carolina's map as an unconstitutional racial gerrymander.
Republicans seeking a reversal said they lawfully relied on politics, not race, to buttress Mace in the 1st District, where she was re-elected by 14 percentage points in 2022 after narrowly unseating a Democrat in 2020 under the previous lines.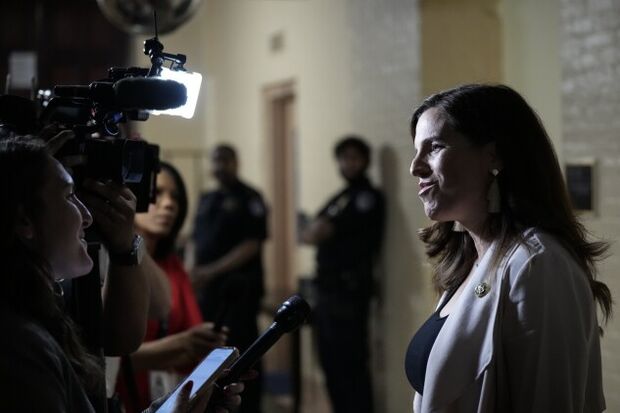 A lower court concluded there was a predominant racial motivation to shifting more than 30,000 Black residents from Republican Mace's 1st District to Democratic Rep. Jim Clyburn's 6th District — "a stark racial gerrymander of Charleston County and the city of Charleston."
Arguments in Alexander v. South Carolina State Conference of the NAACP are set for Wednesday. Read the legal filings here. – Greg Giroux
ALABAMA: Waiting for Moore
The 2024 Alabama congressional elections can begin in earnest after a panel of federal judges adopted new congressional district lines.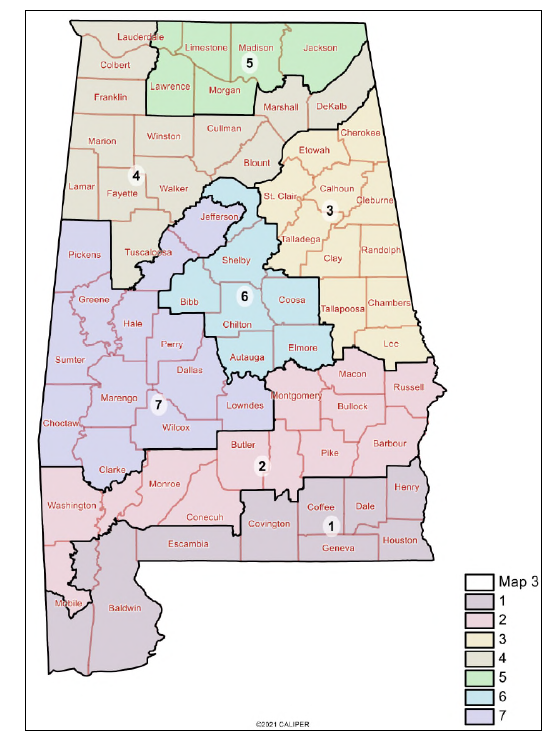 The biggest question is whether Rep. Barry Moore (R), whose southeastern 2nd District was revamped into a heavily Black and Democratic-leaning area, will instead challenge Rep. Jerry Carl (R) in the strongly Republican 1st District.
Carl represents 59% of the people in the new 1st District compared with 41% for Moore. The primary is in March. – Greg Giroux
NEW MEXICO: Not Gerrymandered Enough
A judge in New Mexico ruled today that a Democratic-drawn congressional map is OK because it's gerrymandered but not enough to violate the state constitution.
The lawsuit focused on the oil-producing part of the state, where heavily GOP communities were divided among three districts. Under the revised lines, Democrat Gabe Vasquez ousted Yvette Herrell (R) in last year's election by less than one percentage point.
"The Court does not find that the disparate treatment of vote dilution rises to the level of an egregious gerrymander," wrote Judge Fred Van Soelen.
The close Vasquez-Herrell race in 2022, the only election held in the reconfigured 2nd District, and the difficulty in predicting future election outcomes there mean plaintiffs "have not provided sufficient evidence that the Defendants were successful in their attempt to entrench their party in Congressional District 2," he concluded. Look for Republicans to appeal to the state Supreme Court, which had told Van Soelen to apply a particular three-part test for excessive partisanship. — Greg Giroux

CALIFORNIA: Special Election
Everything's doubled next year in California now that there's a need for a special election to fill out the unexpired part of the late Dianne Feinstein's Senate term.
The same donor caps that apply to the regular election apply separately to the special, so high-end donors can expect to be asked to max out twice.
Reps. Adam Schiff (D) and Katie Porter (D) and technology executive Lexi Reese (D) already filed revised paperwork to raise money for the special election, which is required under California law even though by next November there'll only be two months left in the current term. Rep. Barbara Lee (D) also plans to run in both contests, according to an aide. Appointed Sen. Laphonza Butler (D) hasn't said whether she'll be a candidate. — Greg Giroux
NEVADA: Brown's Billionaire
A billionaire software executive gave $2 million to a super PAC backing Washington Republicans' preferred candidate to oppose Sen. Jacky Rosen (D). Workday co-founder David Duffield is the only listed donor to the Duty First Nevada PAC that's aiding Army veteran Sam Brown, according to a Federal Election Commission filing.
Brown was runner-up to Adam Laxalt in the 2022 Republican primary for Nevada's other Senate seat, which Sen. Catherine Cortez Masto (D) defended successfully in that year's closest Senate election. — Greg Giroux
OHIO: Brown's Bipartisanship
A Democratic super PAC wants Ohio voters to know Sen. Sherrod Brown plays well with the opposition.
Brown "worked with Republicans to bring supply chains home from China to lower costs" and "wrote a bill signed by Donald Trump to crack down on illegal drugs at our border," according to the spot from Duty and Country, a super-PAC aligned with Senate Majority PAC, the leading super-PAC working to defend Democrats' 51-49 majority.
Brown's bipartisan Supply Chain Disruptions Relief Act legislation would provide tax relief to auto workers. He also backed the bipartisan 2021 infrastructure law (Public Law 117-58), which advocates said will strengthen supply chains. In 2018, Trump signed the anti-fentanyl INTERDICT Act (Public Law 115-112), which Brown introduced in the Senate along with three colleagues.
Brown is seeking a fourth term in a state that backed Trump by 8 percentage points in both 2016 and 2020. In 2012, the last time Brown defended his seat in a presidential election year, Barack Obama carried Ohio by 3 points and Brown was re-elected by 6 points. — Greg Giroux
MONTANA: Prayerful Insult
Just a little insight into how annoyed some fellow Republicans were with the vote to eject the speaker of the House. When National Republican Senatorial Committee Chair Steve Daines saw how his homestate GOP colleague voted, he had this to say: "I didn't realize that Matt Rosendale and Nancy Pelosi were in the same prayer group." READ MORE from Zach C. Cohen

MAINE: What's Private?
We're watching for a decision from federal appeals judges considering whether a conservative election law firm has standing to sue Maine's secretary of state. At issue is a law preventing people who obtain voter registration information from republishing it online. READ MORE from Allie Reed.
See also: Voter rolls are becoming a new battleground as amateur sleuths hunt fraud (Associated Press)
TENNESSEE: Hands off
A different federal court, the Sixth Circuit, ruled in favor of a state law that made it a crime to distribute absentee voting applications in Tennessee if you're not an election official. That law has been in place since 1979. READ MORE from Peter Hayes.

OHIO: Something New
Ohio's attorney general decided he has more to contribute to the debate over the abortion and cannabis issues on next month's statewide ballot. So Dave Yost is offering extra words on the two subjects.
The Republican A.G. posted some fresh legal analysis on his official state government website, with the explanation that he's trying to clear up confusion. It's the first time he has provided such analysis on citizen-led ballot initiatives. READ MORE from Eric Heisig.
Resources
Add Us to Your Inbox
SIGN UP for Ballots & Boundaries to keep up with redistricting, congressional campaign trends, and more.
— With assistance from Zach C. Cohen, Eric Heisig, Allie Reed, and Peter Hayes.
To contact the reporter on this story: Greg Giroux in Washington at ggiroux@bgov.com
To contact the editors responsible for this story: Katherine Rizzo at krizzo@bgov.com; Bennett Roth at broth@bgov.com
Stay informed with more news like this – from the largest team of reporters on Capitol Hill – subscribe to Bloomberg Government today. Learn more.