Liz Cheney Donates to Massie Opponent After Forced Stimulus Vote
Rep. Liz Cheney, the chairwoman of the House Republican Conference, donated to the primary challenger to Rep. Thomas Massie four days after Massie forced House members from around the country to return to Capitol Hill for a vote on the bipartisan stimulus bill.
Cowboy PAC, the leadership political action committee of the Wyoming congresswoman and third-ranking House Republican, donated $2,500 on March 31 to Todd McMurtry, a lawyer who's opposing Massie in the June 23 Republican primary in Kentucky's 4th District.
McMurtry's campaign disclosed the donation in his Federal Election Commission first-quarter filing, which was due Wednesday. Email messages to Cowboy PAC and Cheney's leadership office left outside working hours weren't immediately returned.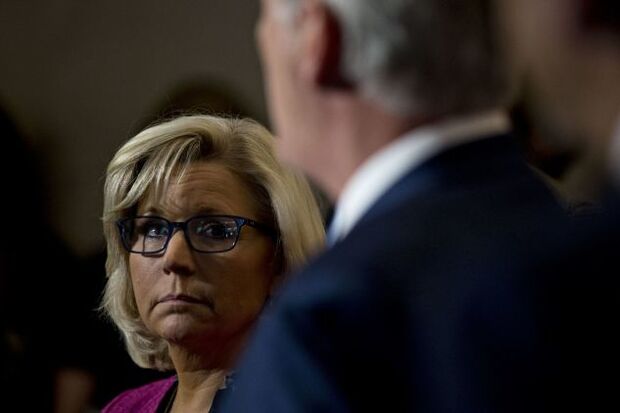 Massie, one of the most anti-establishment members of Congress, is a libertarian-leaning Republican with a history of contrarian behavior and votes. Massie backed Rep. Jim Jordan (Ohio), a former chairman of the Freedom Caucus, over House Republican leader Kevin McCarthy (Calif.) in the 2019 speaker's election.
On March 27, as House leaders expedited passage of a $2.2 trillion coronavirus economic relief package, Massie demanded a recorded up-or-down vote that required some members to end their self-isolation in their districts and return to Washington to convene the quorum needed to thwart Massie. President Donald Trump wrote on Twitter that Massie was a "third rate Grandstander" who should be kicked out of the Republican Party.
Massie said House members had a duty to cast an up-or-down vote and that he "came here to make sure our republic doesn't die by unanimous consent in an empty chamber." Massie released a TV ad last week that displayed a photograph of him with Trump. "The more battles you, President Trump, and I have won together, the more extreme the left has become," Massie said in the spot.
McMurtry also received donations from the PAC of Rep. Mike Turner (R-Ohio) and the Republican Jewish Coalition PAC, according to his FEC filing. The Republican Jewish Coalition PAC endorsed McMurtry on March 27, citing Massie's actions on the coronavirus measure and for some votes it said were anti-Israel.
Massie is in his fourth full term representing Kentucky's 4th District, a strongly Republican area that includes some suburbs of Cincinnati. He had $690,000 in campaign cash-on-hand as of March 31, compared with $237,000 for McMurtry.
Cheney announced in January she wouldn't run for Wyoming's open Senate seat.
To contact the reporter on this story: Greg Giroux in Washington at ggiroux@bgov.com
To contact the editors responsible for this story: Kyle Trygstad at ktrygstad@bgov.com; Loren Duggan at lduggan@bgov.com