Lawmakers Reach Deal on Debt Limit; Defense Compromise Detailed
Lawmakers announced a deal to resolve the debt ceiling and released a compromise annual defense policy bill, both pieces of legislation with pressing deadlines that have evaded agreement for weeks. Meanwhile, President Joe Biden in a two-hour call with Russian President Vladimir Putin said the U.S. would respond strongly to any attack on Ukraine.
Here's what else Bloomberg Government is tracking today.
Deal to Raise Nation's Debt Ceiling Reached
Republicans and Democrats in Congress have agreed on a plan to break a partisan impasse and raise the government's debt ceiling.
"I think this is in the best interests of the country," Senate Minority Leader Mitch McConnell (R-Ky.) said on the deal he struck with Senate Majority Leader Chuck Schumer (D-N.Y.) on a procedural maneuver that would increase the debt limit with only Democratic votes.
The plan moving through the House would link a procedure to raise the debt ceiling to a bill to prevent automatic Medicare cuts. They plan to then pass a separate bill to raise the debt limit by about $2 trillion to put the issue to rest until after the midterm election next November, according to an aide.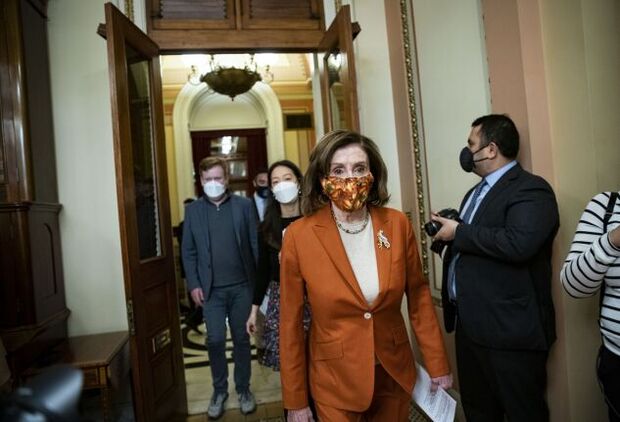 "We think that this is a perfectly appropriate way to handle this," Sen. John Thune (R-S.D.), the chamber's No. 2 Republican, said.
If the plan goes through, the debt limit increase could pass Congress before Dec. 15, the date after which the Treasury said the government may run short of authority to pay its bills.
The maneuver involves a bit of procedural gimmickry. The bill coming before the House this week would need 10 Republican votes in the Senate to advance, but does not itself raise the debt limit. Instead it sets up a process whereby a separate bill introduced before the end of the year aimed at raising the debt ceiling cannot be filibustered in the Senate. That second bill could be passed with just Democratic votes.
Thune said that he believes he could find 10 Republicans to make it work.
Speaker Nancy Pelosi (D-Calif.) sent the legislation to the House Rules Committee, which scheduled an afternoon meeting to advance the measures to potential floor action later today.
This approach would tie action on the debt ceiling to stave off nearly 10% in mandatory cuts to Medicare payments under the PAYGO law set to go into effect on Jan. 1. The pending cuts have alarmed hospital and doctors groups that say Medicare fee-for-service payments could be reduced by $14.1 billion in 2022 unless there's action to stop them. These cuts would also affect trade adjustment assistance, which helps workers who have lost their jobs due to trade-related circumstances, and farm price supports. Congress has previously waived the PAYGO rule. Read more from Billy House and Erik Wasson.
New Defense Bill Deal Scuttles Added Sanctions on Nord Stream 2: House and Senate negotiators scuttled efforts to add new sanctions on Russia's Nord Stream 2 gas pipeline to Germany under a compromise defense policy bill that would authorize $768.2 billion for U.S. national security.
The Senate was unable to reach agreement to pass its own version of the defense bill, so lawmakers worked behind the scenes to write a compromise measure that could pass both chambers and become law by Dec. 31, when many Pentagon authorities are set to expire.
The measure (S. 1605) would authorize the Pentagon to spend $740 billion, an increase of $25 billion from the administration's request of $715 billion. The defense policy bill also would authorize funding for three DDG-51 Arleigh Burke destroyers made by General Dynamics and Huntington Ingalls Industries and 12 Boeing Super Hornets, an increase of $970 million, to avoid a strike aircraft shortfall for the Navy.
The bill, which also includes authorizations for Energy Department defense programs, typically is considered must-pass because it authorizes pay for troops in harm's way. The compromise measure backs a pay raise of 2.7%. It also spells out policies on counter-terrorism and deterring strategic competitors such as China and Russia. Read more from Roxana Tiron.
More Headlines:
Also Happening on the Hill
Senate Confirms Rosenworcel for FCC: The Senate confirmed Jessica Rosenworcel to another term on the Federal Communications Commission on a 68-31 vote. Rosenworcel begins her new term, which will run until 2025, without a Democratic majority at the five-member commission, which currently has two Democrats and two Republicans. That makeup has hindered Democrats' goal of reinstating net neutrality rules, Maria Curi reports.
Brown Sees Fed Nominee Hearings in January: Senate Banking Chair Sherrod Brown (R-Ohio) said hearings on Biden's nominees for the Federal Reserve, including three not yet named, will probably be held in January. Brown had previously said he was considering hearings for Fed Chair Jerome Powell, who has been renominated for the job by Biden, and for Lael Brainard as vice chair as early as this month. Read more from Steven T. Dennis.
Farm Groups Irked by Sluggish Pace on Ag Trade Nominee: The Senate needs to quickly confirm the Biden administration's nominee for chief agricultural trade negotiator, U.S. farm groups say. Biden picked Elaine Trevino to fill the post within the U.S. Trade Representative's Office in September. The Senate Finance Committee has yet to schedule her nomination hearing. Read more from Megan U. Boyanton.
Senate GOP Will Try to Restrict Biden's IRS Audit Boost: Senate Republicans plan to offer an amendment to Democrats' tax-and-spend plan that would bar the IRS from using tens of billions of dollars in additional funding to audit any households making $400,000 or less. The House-passed reconciliation package includes an additional $80 billion in funding for the Internal Revenue Service over 10 years, largely to increase enforcement to collect unpaid taxes. Read more from Colin Wilhelm.
Senators Seek Ocean Shipping Rules Crackdown: Senators, in the face of pushback from the shipping industry, plan to introduce bipartisan legislation to help the Federal Maritime Commission crack down on unfair ocean carrier practices. "These changes will increase the accessibility of the FMC to smaller shippers and provide the agency with clearer authority to intervene when unreasonable practices related to the movement of cargo are discovered," Sen. Thune told a Commerce Subcommittee on Surface Transportation, Maritime, Freight, and Ports hearing today. Read more from Lillianna Byington.
Biden Warned Putin of 'Strong' Response If Ukraine Attacked
President Joe Biden warned Russian President Vladimir Putin today that the U.S. and its allies would take "strong" measures to respond to an attack on Ukraine, as tensions surge over Moscow's massing of troops on the border of the Eastern European nation.
During a two-hour video call with Putin, Biden "told President Putin directly that if Russia further invades Ukraine, the United States and our European allies would respond with strong economic measures," National Security Advisor Jake Sullivan told reporters in Washington.
In addition, Biden told Putin that the U.S. would "provide additional defensive material to the Ukrainians, above and beyond that which we are already providing" if Russia attacks, Sullivan said.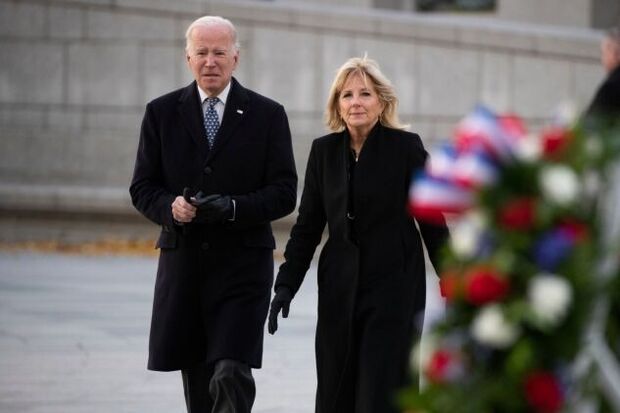 Putin pushed back against Biden's warnings over a Russian threat to Ukraine, blaming NATO for the increase in tensions through its "dangerous efforts" to expand into Ukraine and ratchet up its military potential on Russia's borders, the Kremlin said in a statement.
The Russian leader reiterated that Moscow wants binding security guarantees that the U.S.-led alliance won't take in new members to the east or station offensive weapons close to Russia. Putin also criticized the steady escalation of measures that have severely cut back Russia's diplomatic presence in the U.S. in recent years, forcing it to retaliate.
While noting that the two countries agreed to hold dialogue on their security disagreements, the Kremlin described the phone talk as "frank and businesslike." Read more from Justin Sink and Ilya Arkhipov.
More Headlines:
Politics & Influence
Federal Funds Sought to Protect Threatened Election Officials: Federal election officials are seeking expedited legal guidance from the Government Accountability Office on whether funds allocated to states for election administration can be used to pay for personal security purposes. That's one of the steps to improve the safety of state and local election officials that the U.S. Election Assistance Commission outlined in a letter responding to an inquiry last month from Senate Rules and Administration Committee Chairwoman Amy Klobuchar (D-Minn.) and ranking member Sen. Blunt. The senators expressed concern for officials who've faced increased threats of violence since the 2020 elections. Read more from Kenneth P. Doyle.
Bannon Trial Set for July in Capitol Contempt Case: Former Trump campaign chairman Stephen Bannon will go on trial in July on criminal contempt charges over his refusal to cooperate with the congressional investigation into the U.S. Capitol riot, a judge ruled. U.S. District Judge Carl Nichols said today that a two-week trial in Washington will begin with jury selection on July 18, months earlier than the October start date requested by Bannon. The judge rejected what he called the government's request for a "light speed" trial in April. Read more from Erik Larson.
Congresswoman Expects No Minnesota Miracle: Rep. Angie Craig's congressional future may be decided by a five-judge panel appointed by the Minnesota Supreme Court. Craig had two whisker-close victories, by about 18,000 votes over incumbent Rep. Jason Lewis (R) in 2018 and by fewer than 10,000 votes over Tyler Kistner (R) last year. So a little change in the district lines could matter a lot. Meanwhile, an Ohio law intended to prevent partisan gerrymandering gets its first legal test in a three-suit oral argument tomorrow that could determine the fate of congressional and statehouse maps. Read more in Bloomberg Government's Ballots & Boundaries weekly newsletter.
Third Circuit Vacancy Gives Biden Chance to Shift Court Balance: A vacancy on the Philadelphia-based circuit court gives Biden an opportunity to evenly split membership of that bench between appointees of Republican and Democratic presidents. Judge D. Brooks Smith of the U.S. Court of Appeals for the Third Circuit took a form of semi-retirement known as senior status on Dec. 4, deputy circuit executive Joel McHugh said. Smith, who recently ended his tenure as chief judge of the court, is an appointee of George W. Bush, a Republican. Read more from Madison Alder.
Business Groups Nab Ex-NLRB Chief for Rule Fight: Two leading business advocacy groups, the U.S. Chamber of Commerce and the International Franchise Association, have hired former federal labor board chair Philip Miscimarra to defend a Trump-era regulation on joint employment. The Service Employees International Union seeks to overturn National Labor Relations Board regulation, finalized in 2020 by the then-Republican majority, that makes it harder to hold large companies accountable for violating franchised or sub-contracted workers' labor rights. Read more from Ian Kullgren.
Around the Administration
Treasury Proposes Registry to Crack Down on Shell Companies: The U.S. Treasury Department has proposed a federal registry in an effort to close loopholes that have enabled terrorists, criminals and corrupt government officials to launder illicit cash through so-called shell companies. When the proposal is finalized, businesses in the U.S. will have to file basic information to Treasury's Financial Crimes Enforcement Network, including the identities of companies' "beneficial owners," according to documents released today.
The change was mandated by the Corporate Transparency Act, a sweeping revision of anti-money-laundering efforts that became law early this year. The provision is meant to unmask anyone making consequential decisions, and to stop corporate structures designed to obscure the people behind them. Read more from Jesse Hamilton and Christopher Condon.
Airplane Landings at Risk of Delays on FAA Move to Ease 5G Risk: Airliners, private planes and helicopters may have to limit landings in low-visibility conditions and follow other restrictions under a government directive to ensure safe operations once a new band of 5G mobile-phone service starts in January. The Federal Aviation Administration today issued two orders laying out potential flight restrictions that could cause severe restrictions at major airports during bad weather. Read more from Alan Levin and Susan Decker.
Yellen Says Supply-Chain Shift May Need Protectionist-Like Steps: Treasury Secretary Janet Yellen said that U.S. reliance on foreign supply chains has proved a vulnerability and that the country needs to produce more critical goods domestically in order to protect both its economic and national security. "It's possible that policies that people will describe as protectionist are going to be necessary in order to create the appropriate incentives to produce things at home," Yellen said in an interview recorded yesterday for an online conference hosted by the Financial Times. She didn't offer further specifics on the potential measures she envisioned. Read more from Christopher Condon.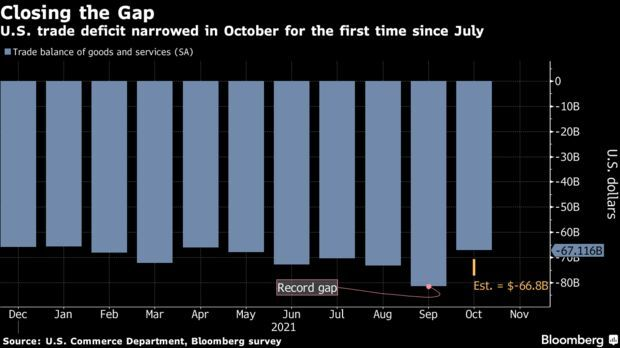 Rouse Expects Economy to 'Largely Power Through' Omicron: Existing vaccine protections should help the U.S. "largely power through" the emergence of the omicron coronavirus variant and avoid additional lockdowns, White House Council of Economic Advisers chairwoman Cecilia Rouse said today. While the White House awaits more information about the variant's transmissibility and severity—as well as vaccine efficacy—the country is "not in the same place we were a year ago," Rouse said at the Wall Street Journal's CEO Council. Read more from Justin Sink.
Treasury's Harris Says Labor Market Lacks True Competition: A senior Treasury Department official said policy makers should act to make labor markets more competitive, by preventing employer abuses that have long suppressed pay for low-wage workers. Ben Harris, the Treasury's assistant secretary for economic policy, released text of remarks he's scheduled to deliver today at an event hosted by the Department of Justice and Federal Trade Commission, but didn't offer specific policy proposals for addressing the issue. Read more from Christopher Condon.
Biden Vaccine Mandate for Contractors Blocked Nationwide: The Biden administration's mandate for federal contractors' employees to be vaccinated will be halted nationwide, amid a slew of challenges from states that say the president overstepped his authority in requiring the Covid-19 shots. The mandate, which was set to take effect on Jan. 4, applies to roughly a quarter of the U.S. workforce and affects companies that do business with the federal government. A federal judge in Georgia blocked the mandate today. The latest order follows a Kentucky federal judge's grant last week of a preliminary injunction in several states. Read more from Erin Mulvaney.
Biden Slashes Biofuel Targets in Blow to Agriculture Industry: The Biden administration sought to thread the needle between warring oil and renewable fuel interests today by proposing modest quotas for the use of plant-based fuels while moving to block exemptions for dozens of oil refineries. The Environmental Protection Agency today called for cutting biofuel-blending quotas retroactively for 2020, while outlining targets for this year that track actual consumption as well as a modest increase in 2022, Jennifer A. Dlouhy and Kim Chipman report.
Violent-Crime Definition Gets High-Court Hearing in Gun Case: The Justice Department pressed the Supreme Court to reverse an appeals-court ruling that upends mandatory-minimum gun sentences in a case that appeared to divide the justices. The question considered by the Supreme Court today is whether attempted federal robbery counts as a "crime of violence" under a law that exposes defendants to stiff prison terms. Read more from Jordan S. Rubin.
To contact the reporter on this story: Michaela Ross in Washington at mross@bgov.com
To contact the editors responsible for this story: Zachary Sherwood at zsherwood@bgov.com; Giuseppe Macri at gmacri@bgov.com