Immigration Loss Leaves Democrats Eyeing Risky Alternatives (1)
Senate parliamentarian rebuffed deportation protection plan
Lawmakers consider edits or long-shot bid to ignore opinion
(Updates throughout with additional lawmaker comments.)
Bloomberg Government subscribers get the stories like this first. Act now and gain unlimited access to everything you need to know. Learn more.
Democrats are desperate for a path forward on immigration in their social spending and tax bill after suffering a potentially fatal procedural blow.
Their remaining options are politically and logistically risky: watering down their latest proposal or attempting to sidestep a Senate rules official. But the stakes are high for finding a solution.
"It'll have a hard time passing the Senate if there's not something on immigration," Sen. Alex Padilla (D-Calif.) said. Senate Democrats plan to discuss their options during a meeting Friday afternoon.
Senate parliamentarian Elizabeth MacDonough issued an opinion Thursday saying a proposal to offer work permits and deportation protections through a status known as parole for some undocumented immigrants conflicts with the chamber's rules.
Legislation passed under the reconciliation process Democrats are using to pursue their agenda bill (H.R. 5376) must be primarily budget-related. Thursday's opinion marks the third time the parliamentarian has rejected Democrats' immigration proposals.
"The proposed parole policy is not much different in its effect than the previous proposals we have considered," the opinion said. It doesn't address separate provisions that would alleviate green card backlogs in the legal immigration system; those remain untested and in limbo.
Immigration Plans in Flux Amid Broader Delay on Democrats' Bill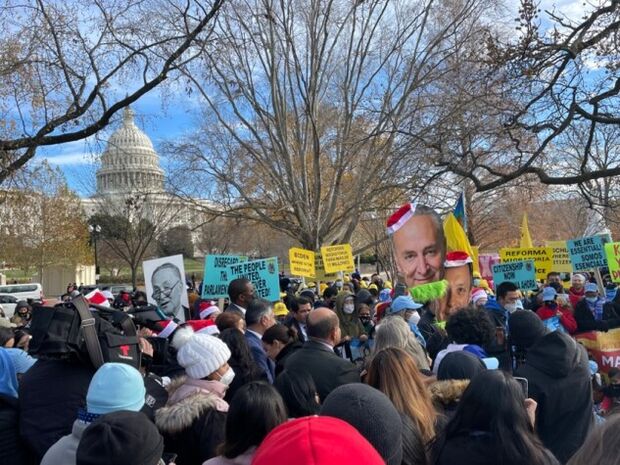 Majority Leader Chuck Schumer (N.Y), whip Dick Durbin (Ill.), and the four Latino Democrats in the Senate—Sens. Bob Menendez (N.J.), Catherine Cortez Masto (Nev.), Ben Ray Luján (N.M.), and Padilla—issued a joint response hinting at their next steps.
"We strongly disagree with the Senate parliamentarian's interpretation of our immigration proposal, and we will pursue every means to achieve a path to citizenship in the Build Back Better Act," they said.
The statement was notable for its focus on citizenship rather than the downsized parole option—signaling a potential willingness to try to ignore the parliamentarian's advice. When she rejected previous efforts to offer legal status to millions of undocumented immigrants, Democrats pivoted to parole in the hopes that she would embrace the narrower plan.
Senate Parliamentarian Nixes Democrats' Immigration Plan
Leading House Democrats and immigrants' rights advocates have consistently called for sidestepping the parliamentarian's advice. Sen. Joe Manchin (D-W.Va.) opposes overruling her, and it's unclear whether he would go along with a similar procedural gambit advocates have recommended.
Moving ahead with provisions the parliamentarian has said don't meet the Senate's rules opens the legislation up to challenges from Republicans, especially if the Democratic caucus isn't unified. Cortez Masto, who supports disregarding the rulekeeper's advice, said she's talking to all of her colleagues about the issue.
Broad support beyond the circle of key immigration negotiators remains unclear. Sen. Jacky Rosen (D-Nev.) said she was "extremely disappointed" with Thursday's opinion but demurred when asked whether she would favor ignoring it. "Well, you know what, we're going to talk about that," she said.
Sen. Mark Kelly (D-Ariz.) likewise lamented the decision and knocked Senate rules. "If NASA had the rules of the U.S. Senate, it would never get the rocket ship off the launchpad," he said. "Hey, I'm willing to look at other options to get this done because it's the right thing to do."
Changes?
Some immigration negotiators on Capitol Hill want to consider revisions to the text that would respond to the parliamentarian's decision, a person familiar with the discussions said. The opinion focuses on concerns that parole status would indirectly help some recipients pursue green cards, and that it would constrain the homeland security secretary's discretion in granting and revoking parole.
Democrats could respond to the first issue by redrafting the text to stipulate that the new type of parole status couldn't be used to meet eligibility requirements, though it's unclear whether such a rewrite would work.
Addressing the parliamentarian's second concern would be more straightforward, but potentially dangerous. If the parole language were changed to broaden the secretary's discretion, a future administration could undermine the program by opting to grant fewer parole requests or weaponize requests against applicants.
Existing language raising red flags under the parliamentarian's reasoning include specifications that the Department of Homeland Security "shall" grant and renew status for qualifying applicants, give them work and travel authorization, and deem them eligible for a driver's license or federal ID.
Other vulnerable provisions say the DHS secretary may not revoke parole unless an applicant is determined to be ineligible, and may not share information with U.S. Immigration and Customs Enforcement or Customs and Border Protection for immigration enforcement.
Immigration Hub Deputy Director Kerri Talbot, a key player in negotiations, described those provisions as ancillary to the core work permit program.
"It would be helpful to keep these provisions, but ultimately the agency can revoke status for anyone," she said during a press call earlier this month. "Ultimately all immigration benefits are basically discretionary."
Election Issue
Rep. Lou Correa (D-Calif.), a top House negotiator, said he's uncomfortable with downsizing the immigration language any further and warned that Democrats would face wrath from voters in the 2022 elections if they don't secure a citizenship path.
"At this point, what we've been asking all along is just overrule the parliamentarian," he said in an interview.
Republicans have made immigration and border security key campaign issues leading into the midterms, attacking the Biden administration for rolling back restrictive Trump-era policies. Sen. Chuck Grassley (R-Iowa), who led the opposition to Democrats' immigration proposals, praised the parliamentarian's decision Thursday.
"This guidance confirms, once again, what everyone already knew—that giving amnesty to millions of illegal immigrants isn't a budgetary matter appropriate for reconciliation," he said in a statement.
To contact the reporter on this story: Ellen M. Gilmer in Washington at egilmer@bloombergindustry.com
To contact the editors responsible for this story: Sarah Babbage at sbabbage@bgov.com; Meghashyam Mali at mmali@bloombergindustry.com; Heather Rothman at hrothman@bgov.com
Stay informed with more news like this – from the largest team of reporters on Capitol Hill – subscribe to Bloomberg Government today. Learn more.