HEALTH CARE BRIEFING: Senators Call for FTC Action Amid Pandemic
Bloomberg Government subscribers get the stories like this first. Act now and gain unlimited access to everything you need to know. Learn more.
The Federal Trade Commission needs to do more to penalize entities for promoting fake Covid-19 tests and other pandemic-related products, Senate leaders said in a hearing yesterday.
"There is a glaring lack of enforcement at the federal level," Sen. Richard Blumenthal (D-Conn.), chair of the Senate Subcommittee on Consumer Protection, Product Safety, and Data Security, said. The FTC's warning letters against counterfeit product sellers aren't enough to discourage the fraudulent activity, he said.
Lawmakers and consumer watchdog groups say the rise of counterfeit Covid-19 products and price gouging during the pandemic can cost consumers millions of dollars and put them at increased risk of infection.
Congress in December 2020 passed the Covid-19 Consumer Protection Act, which granted the FTC new authority to seek civil penalties for scams and deceptive practices related to the pandemic. Since its passage, though, the FTC has only brought three civil penalty cases under the new law, Blumenthal said.
Samuel Levine, director of the FTC's Bureau of Consumer Protection, said yesterday that the agency will prioritize taking more legal action going forward, and that much of the focus thus far has been getting false advertisements and claims down "as quickly as possible."
Levine, though, argued that the agency's battle against counterfeit product marketing "remains uphill so long as digital platforms continue to wash their hands with responsibility for the fraud they are facilitating."
American consumers in 2021 lost an estimated $770 million to fraud initiated on social media, according to an FTC analysis published Jan. 27. Read more from Celine Castronuovo.
Senators Seek DOJ Crackdown on Fake Masks: Sens. Ed Markey (D-Mass.) and Elizabeth Warren (D-Mass.) called on the Justice Department to crack down on retailers selling counterfeit masks. "We urge the DOJ to redouble its efforts to ensure that consumers are not vulnerable to fraudulent masks sold through brick-and-mortar and online retail settings," the duo wrote in a letter. "Americans trying to protect themselves, their families, and their communities should not face potentially life threatening exploitation by unscrupulous actors." Read more.
Biden Relaunches Moonshot Effort
President Joe Biden will revive his moonshot initiative to expedite progress on cancer treatments and prevention and detection capabilities, bringing back a signature program he led in his final year as vice president.
The 2016 cancer moonshot aimed to "end cancer as we know it" as Biden would often say, by focusing on advancing scientific discovery, improving collaboration and data sharing and setting up a number of public-private partnerships. The new moonshot will focus on reducing the disease's death rate by at least 50% in the next 25 years.
"A lot has changed that makes it possible to set really ambitious goals right now," a senior administration official said at a press briefing for reporters. The mRNA technology used to develop coronavirus vaccines could also stop cancer cells from growing.
The announcement comes as money to fund the moonshot effort will hit a funding cliff in the next year and a half, leaving more than 240 research projects without money to continue that work. The 2016 biomedical innovation law 21st Century Cures (Pub. L. 114-255) made $1.8 billion available over seven years through a special innovation fund, but that money runs out at the end of September 2023.
The White House official didn't specify where funding for the moonshot initiative would come from but said the administration is "very confident there is robust support for it." Biden is expected to release his proposed budget around the time of his State of the Union speech to Congress March 1. Read more from Allie Reed.
Happening on the Hill
Manchin Says Biden Plan 'Dead', Talks Must Start From Scratch: Sen. Joe Manchin (D-W.Va.) said Biden's $2 trillion Build Back Better plan is "dead," and any talks on reviving key parts of it must start from scratch. He told reporters in the Capitol that any new discussions have to start with a clean slate. "Whatever we are going to come up with, anything you want to be put on the table we can talk about."
Senate Majority Leader Chuck Schumer (D-N.Y.) said yesterday he still is working on resurrecting some version of the legislation, though he gave no timetable. "There are lots of provisions in that bill that are very important, many of which Senator Manchin supports, such as say drug pricing," Schumer said. "So we are continuing to work on it and there are conversations going on between Senator Manchin and different senators right now." Erik Wasson has more.
ARPA-H Hearing Set for Tuesday: White House science adviser Eric S. Lander will appear before a House Energy and Commerce Committee Health Subcommittee hearing on Tuesday on Biden's proposal to set up the Advanced Research Projects Agency for Health, a new agency to speed up cutting-edge biomedical innovations. The committee currently has two dueling bills: one from Health Subcommittee Chair Anna Eshoo (D-Calif.) to make it independent of the National Institutes of Health, and one from Reps. Diana DeGette (D-Colo.) and Fred Upton's (R-Mich.) to put it in the NIH, Jeannie Baumann reports.
Finance Panel to Hold Mental Health Hearing: Senate Finance Chair Ron Wyden (D-Ore.) announced he'll convene a hearing on Tuesday to consider the "challenges facing young people and families related to youth mental health care." The sole witness at the panel will be U.S. Surgeon General Dr. Vivek Murthy. Wyden last year announced the panel would host Murthy after he released an advisory highlighting "the urgent need to improve youth mental health, particularly in light of the effects of the COVID-19 pandemic." Read a statement from Wyden's office here.
Republicans Say Becerra 'Missing' During Pandemic: HHS Secretary Xavier Becerra, already openly criticized by public health experts for his low-profile role in the administration's Covid-19 response efforts, has now caught the attention of congressional Republicans who are demanding to see his calendar. The Republican heads of the House Energy and Commerce Committee, the Subcommittee on Health, and the Subcommittee on Oversight and Investigations sent a letter to the secretary yesterday asking his whereabouts amid a public health crisis that is killing thousands of Americans a day. Read more from Allie Reed.
More on the Pandemic
Pfizer Eyes OK for Vaccine in Younger Kids: Pfizer and BioNTech said they've begun submitting data to U.S. regulators for authorization of their Covid-19 vaccine in younger children, hastening an effort to get shots to more kids after the omicron wave caused pediatric infections to jump. The companies said in a statement that they have started a so-called rolling submission with the Food and Drug Administration seeking an emergency authorization for the vaccine in children 6 months to four years of age. A panel of outside advisers is set to meet Feb. 15 to weigh that request, according to a statement from the agency.
The clearance request came earlier than expected. Data released by the companies in December suggested that the ability of two doses to prevent infection was mixed and that more evidence would be needed before asking for an authorization. Data on a third dose given eight weeks after the second shot are expected in coming months and will also be sent to regulators, the companies said. Josh Wingrove and Riley Griffin have more.
Hospital Admissions Drop in 34 States, Easing Pressure: U.S. hospital admissions for Covid-19 are receding in 34 states and the nation's capital, easing the health-care staffing crises that were widespread at the start of the year. The swift drop in U.S. cases and hospitalizes follows trends in South Africa and Europe. Read more from Jonathan Levin.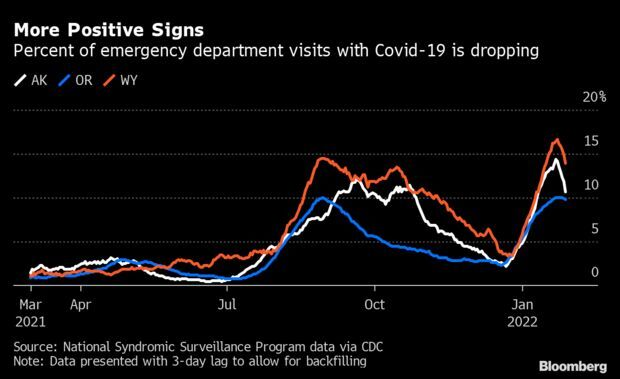 Pregnant Women With Covid-19 Unlikely to Transmit to Babies: Pregnant women who are positive with Covid-19 when they give birth rarely transmit the virus to their newborns, according to new research. The reason: the virus isn't often found in a patient's bloodstream. "Infection among infants born to women with Covid-19 was uncommon," Kate Woodworth, a medical epidemiologist at the Centers for Disease and Prevention, said. Read more from Madison Muller.
Fast-Spreading Omicron Less Likely to Stop Reinfection: New studies are emerging that suggest that the latest version of the omicron variant is transmitting even faster than the original, and mild cases of the first may not offer much protection against a future infection. The findings cast doubt on hopes that the wave of omicron that's sweeping the world may help hasten the end of the pandemic. The production of neutralizing antibodies during an omicron infection appears related to the severity of illness, one report from researchers at the University of California, San Francisco said. Read more from Kanoko Matsuyama.
More Headlines:
What Else to Know Today
Pivotal Cancer Care at Risk When Medicare Ends Value-Based Pay: Oncology practices are sounding the alarm about the end of an experimental program that rewires financial incentives for cancer treatment to cut costs and improve care. At risk are clear gains reported by respondents in the areas of patient experience, consistency of cancer treatments, and operational efficiencies gained over the course of the six-year pilot. The Centers for Medicare & Medicaid Services plans to end the oncology model this summer, partly because participating practices haven't demonstrated sufficient savings. Christopher Brown has more.
Health, Housing Slam Budgets of Older Americans: Older Americans spent a growing share of their budgets on housing and health care in the decade through 2020, according to new data from the Social Security Administration. That squeeze could get worse in the coming years, with some economists warning that costs in those areas—which haven't so far risen as much as the overall inflation rate—may climb. Read more from Alex Tanzi.
More Headlines:
With assistance from Jeannie Baumann
To contact the reporter on this story: Brandon Lee in Washington at blee@bgov.com
To contact the editors responsible for this story: Zachary Sherwood at zsherwood@bgov.com; Giuseppe Macri at gmacri@bgov.com; Michaela Ross at mross@bgov.com
Stay informed with more news like this – from the largest team of reporters on Capitol Hill – subscribe to Bloomberg Government today. Learn more.