HEALTH CARE BRIEFING: Pharma Could Face Billions in Waste Fines
Bloomberg Government subscribers get the stories like this first. Act now and gain unlimited access to everything you need to know. Learn more.
Drug manufacturers Takeda Pharmaceutical and Roche could each be forced to repay the government $100 million annually for wasted medicines under the bipartisan Senate infrastructure deal.
The $550 billion legislation, which the Senate is debating this week, would require companies to refund Medicare when doctors throw away drugs, a move meant to push some drugmakers to stop overpacking single-use containers. The funds would offset part of the bill's spending on roads and bridges.
Medicare paid $752.9 million for drugs that were discarded in 2019, according to U.S. government data. More than a third, or $286 million, of that spending came from just four drugs, and one—Takeda's Velcade—accounted for over $114 million of that spending alone. The top five most-wasted drugs by cost in 2019 were Velcade, Roche's Herceptin, Amgen's Nplate, Bristol-Myers's Abraxane, and Roche's Rituxan. Velcade topped the list for all three years Medicare has collected this data.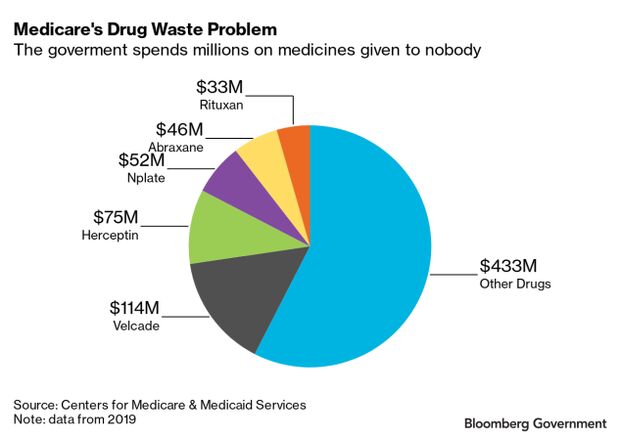 Researchers and health-care industry executives claim that drug waste is a major hidden cost for U.S. insurers, including Medicare, that contributes to rising insurance premiums. The waste also obscures what's actually being spent on some of the costliest drugs, in some cases raising the cost of pricey cancer drugs by 20% or more.
The infrastructure package would require drugmakers to refund Medicare for discarded physician-administered drugs starting in 2023. Drugs that have been covered by Medicare for fewer than 18 months would be exempt, as would some drugs that require a special filtration process.
Lawmakers who want drugmakers to repay Medicare for wasted drugs say manufacturers intentionally over-package containers to reap more revenue from the government. Without a profit motive, the drug companies are likely to find ways to reduce waste, said Stacie Dusetzina, a professor of health policy at Vanderbilt University Medical Center.
Some waste is normal for medicines that come in single-use containers where the dose is based on the patient's weight, said Chris Marcum, vice president of enterprise pharmacy at Cancer Treatment Centers of America, a network of cancer care centers. Doctors can either use whatever is left in the container for another patient—or discard it and bill it as waste, he said. Often these medicines don't contain preservatives, giving them a shelf life of a few hours, he said. Read more from Alex Ruoff.
Senators Propose Using Covid-19 Aid on Infrastructure: Republican Senator John Cornyn (R-Texas) said he and Alex Padilla (D-Calif.), are bargaining with the White House on their proposal to give states flexibility to use some unspent pandemic relief funds on infrastructure projects, which would free up billions of federal dollars.
Cornyn and Padilla are making their proposal as an amendment to the infrastructure package. A White House official said the administration was in discussion and working to ensure the proposed amendment didn't undermine the effort against the coronavirus.
Cornyn said their latest offer is to give states flexibility on spending 25% of any funds they were allocated from two major Covid-19 relief bills. They could spend another 25% of the money with a waiver from the Biden administration. Read more from Laura Litvan and Steven T. Dennis.
Happening on the Hill
Senate Panel Approves Three Spending Bills as GOP Objects: Senators advanced a trio of fiscal 2022 federal appropriations bills yesterday, but Republicans warned that they'll hit opposition on the floor until there's a wider bipartisan deal on spending. Among the three advanced by the Senate Appropriations Committee is the Agriculture-FDA bill, which carries $25.9 billion in discretionary spending. The FDA would receive $3.4 billion, a $200 million increase from fiscal 2021. Jack Fitzpatrick and Kellie Lunney have more.
Democrats Eye Medicaid-Like Coverage in Budget Bill: Thirty congressional Democrats called on leaders to include a Medicaid-like program in an upcoming budget reconciliation package carrying parts of Biden's social agenda. The program would "provide critical health care coverage" to the millions of Americans in GOP-led states that haven't expanded their state Medicaid programs. Their access to affordable insurance through Medicaid is hindered "because of where they live," they said in a letter to leadership.
Democrats Push Bill to Update Food Labeling: Five Democrats introduced a bicameral bill yesterday aimed at updating front-of-package food labeling requirements and the ingredient list on food. It would direct the secretary of Health and Human Services to create one standard front-of-package food labeling system, and request new guidance over the word "healthy" in food marketing. House Energy and Commerce Chair Frank Pallone Jr. (D-N.J.) called it a "pro-consumer" bill, Megan U. Boyanton reports.
Bipartisan Animal Disease Spread Bill: A bipartisan bill aimed at fighting the spread of foreign animal diseases was introduced yesterday by Senate Agriculture, Nutrition, and Forestry Committee members Chuck Grassley (R-Iowa) and Tina Smith (D-Minn.). The measure would boost the Agriculture Department's Animal and Plant Health Inspection Services program by offering more tools to monitor the health of imported dogs, Megan Boyanton reports. Smith pointed to the coronavirus pandemic as an example of why their bill is critical, as it "showed us that human and animal health are inextricably linked, and that we must take proactive steps to prevent future health emergencies."
Senators Want Memorial Day for Pandemic Victims: Sens. Elizabeth Warren (D-Mass.), Ed Markey (D-Mass.), and Martin Heinrich (D-N.M.) introduced a resolution to "memorialize those lost to the COVID–19 virus and recognize the suffering of COVID–19 survivors," according to a statement. It would designate the first Monday in March as "Covid–19 Victims and Survivors Memorial Day." Rep. Greg Stanton (D-Ariz.) introduced a companion bill in the House. Find text of the bill here.
The Coronavirus Pandemic
States Pressured to Hasten Stalled Rental Relief: The Biden administration's decision to give renters affected by the worsening pandemic a two-month eviction reprieve risks pushing a housing crisis into the fall if states fail to accelerate distribution of billions in rent relief. State and local governments nationally have disbursed barely 10% of the $47 billion in federal rent aid in the pipeline and have until Oct. 3 to streamline bureaucracies, improve technology, and publicize programs under the order issued by the CDC.
Several states, such as Oregon and Maryland, say they have made significant progress in the last month. But others including New York continue to lag, raising questions about whether the new eviction moratorium will only delay the inevitable in certain regions. MacKenzie Hawkins and Skylar Woodhouse have more.
Biden May Recommend Booster Shots for Immunocompromised: President Joe Biden's administration is working towards making a recommendation that some immunocompromised people receive an extra dose of coronavirus vaccine, according to Axios, citing two unidentified people familiar with the matter. A recommendation is likely to come soon but there is no firm timeline, according to a senior Biden official, Deana Kjuka reports.
Florida Hospitals Fighting to Procure Oxygen: Florida hospitals are struggling to get oxygen due to a rise in Covid-19 cases tied to the delta variant and Florida Gov. Ron DeSantis' (R) decision not to declare another state of emergency. A shortage of drivers qualified to transport oxygen, as well as restrictions over how long truck drivers can be on the road—which went back into effect after the state's public health emergency expired—means supply isn't reaching hospitals that need it. Shira Stein has more.
WHO Seeks Halt to Boosters to Let Poor Catch Up: The World Health Organization called for a moratorium on Covid-19 booster shots to enable poorer countries to catch up in vaccination rates. A halt on third doses should be in place until, at least, the end of September, Director-General Tedros Adhanom Ghebreyesus said at a press briefing yesterday. That could help achieve the WHO's goal to vaccinate 10% of the population in all countries by then, protecting health workers and seniors. Corinne Gretler has more.
Antibodies Said Won't Exempt Workers From Mandates: A law professor faces long odds to convince a court that he does not have to comply with his university's vaccine mandate on account of his "natural immunity" from a prior infection, legal observers said. Court rulings that have upheld the mandates, research, and public health guidance suggesting vaccines are necessary even in cases of prior infections stand as major obstacles to his lawsuit, they argue. Robert Iafolla and Allie Reed have more.
Virus Workplace Safety Probes on Rise in South: Federal inspections targeting workplace Covid-19 hazards have risen in many southern states in recent months, while declining in the Northeast and Midwest, reversing a pattern from earlier in the pandemic. In most southern states like Texas and Louisiana, the Occupational Safety and Health Administration conducted more inspections from May 1 through July 13 than in the same period a year ago, a Bloomberg Law analysis shows. Read more from Bruce Rolfsen.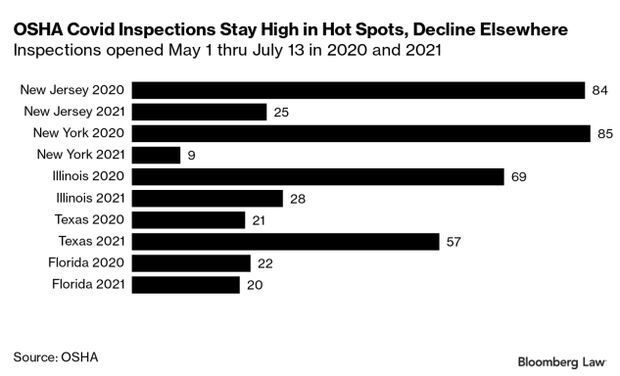 More Headlines:
What Else to Know Today
FDA Alzheimer's Drug Approval Gets Scrutiny: A federal watchdog said it will examine U.S. drug regulators' use of an approval process intended to grant speedier access to experimental medication. The Food and Drug Administration's accelerated approval pathway is meant to get potentially promising treatments to market faster by permitting therapies while drugmakers continue to study them. Backers say it helps address unmet medical needs quick, but critics say the it's used too often. Anna Edney has more.
Biden Stimulus Increase Cut ACA Premiums: Monthly premiums for health coverage through the Affordable Care Act market fell an average of 40% due to a boost in subsidies from government stimulus aid, the Biden administration said. More than 1.5 million people have enrolled in health plans through HealthCare.gov since the White House opened a special window on Feb. 15. Another 2.5 million covered people took advantage of expanded assistance established by the American Rescue Plan. John Tozzi has more.
U.S. Misused Treaty Process in Case, Teva Says: Teva Pharmaceutical, the drugmaker fighting U.S. criminal charges, claims prosecutors misused a treaty process for gathering information overseas to improperly gain more time to investigate the company. Teva said in a court filing in federal court in Philadelphia that the Justice Department used the maneuver as a pretense to extend the deadline it faced to levy price-fixing charges, lest it closes the probe. David McLaughlin and Riley Griffin have more.
Medicare AI to Infer Race to Target Health Equity: The Centers for Medicare and Medicaid Services will use artificial intelligence to derive a patient's race using factors like name, ZIP code, and language preference, when the patient's race is not fully disclosed on hospital forms, to help spot and improve on health-care inequities. CMS thinks the computer-estimated data would be a closer match to what respondents may have reported if given more races to select from as their response. Allie Reed has more.
Report Floats Ways of Targeting Socioeconomic Health Factors: A Medicare advocacy group and a social research organization unveiled recommendations on how the U.S. can better tackle social determinants of health, socioeconomic factors that can create disparities in health outcomes. The report from the Better Medicare Alliance and NORC at the University of Chicago cites the need for data-sharing among HHS and state Medicaid agencies, among other recommendations. Find the study provided to BGOV here.
From the Courts:
More Headlines:
With assistance from Megan U. Boyanton and Alex Ruoff
To contact the reporter on this story: Brandon Lee in Washington at blee@bgov.com
To contact the editors responsible for this story: Zachary Sherwood at zsherwood@bgov.com; Giuseppe Macri at gmacri@bgov.com; Michaela Ross at mross@bgov.com
Stay informed with more news like this – from the largest team of reporters on Capitol Hill – subscribe to Bloomberg Government today. Learn more.