HEALTH CARE BRIEFING: Pelosi Eyes Supply Chain Czar in Next Bill
Bloomberg Government subscribers get the stories like this first. Act now and gain unlimited access to everything you need to know. Learn more.
House Democrats want to make Covid-19 treatments free and plan to mandate the Trump administration create a supply chain czar to oversee the purchase and distribution of medical supplies in their next legislative package responding to the outbreak of the coronavirus, Democratic leaders said yesterday.
Democrats also intend to push for stronger enforcement of safety standards by the Occupational Safety and Health Administration in hospitals (H.R. 6139) and other health settings in a forthcoming fourth congressional virus effort, the lawmakers said on a call with reporters.
The agenda, laid out by Speaker Nancy Pelosi (D-Calif.) and top committee leaders, is likely to set up policy fights with Republican counterparts, who have previously rejected including items like the OSHA safety standards in earlier coronavirus packages. Pelosi said she wants the bill to be bipartisan, but noted some of the items were blocked from previous bills.
"It has been blocked three times," she told reporters about the OSHA standards. "If we fail to act we are making the situation more dangerous." Pelosi added that Democrats also want more funding for hospitals and family medical leave, Alex Ruoff reports.
House Energy and Commerce Chairman Frank Pallone (D-N.J.) said on yesterday's call he wants "some kind of clear national leader" for the medical equipment supply chain to oversee the distribution of personal protective equipment for health-care providers. Pallone said that Democrats want language in the bill "mandating or authorizing" to some extend a federal supply chain leader.
"The problem I see right now: We really need some kind of centralization with regard to PPE," Pallone said. He added that providing free treatment for those with Covid-19 and expanding access to Internet broadband would also be top priorities for Democrats, Ruoff reports.
Pelosi also said she wants the next stimulus to include another round of direct cash payments for individuals, and that these payments might be even larger than was provided in the stimulus legislation signed by President Donald Trump on Friday. That bill provided payments of up to $1,200 for each adult and $500 for each child. Read more from Erik Wasson.
Hospital, Telehealth Rules Relaxed by CMS: Hospitals will be able to care for Covid-19 patients in same-day surgery centers, hotels, dorms, and other locations, under changes announced yesterday by CMS. The agency said it is temporarily waiving regulations to give hospitals "maximum flexibility" to respond to the coronavirus pandemic. Hospitals will also be able to increase their staffing capacity under the waivers, which may be key if physicians begin falling ill, and will be able to use telehealth for additional services, Shira Stein and Alexis Kramer report.
Democrats Praise Covid-19 Oversight Pick: Also yesterday, Democrats in both chambers praised the appointment of Department of Defense acting Inspector General Glenn Fine to be the head of a new pandemic accountability oversight panel. Fine has a reputation as an independent leader, and will be responsible for investigating potential fraud, waste, and abuse in the federal government's response, Senate Minority Leader Chuck Schumer (D-N.Y.) and House Oversight and Reform Chairwoman Carolyn Maloney (D-N.Y.) said in statements.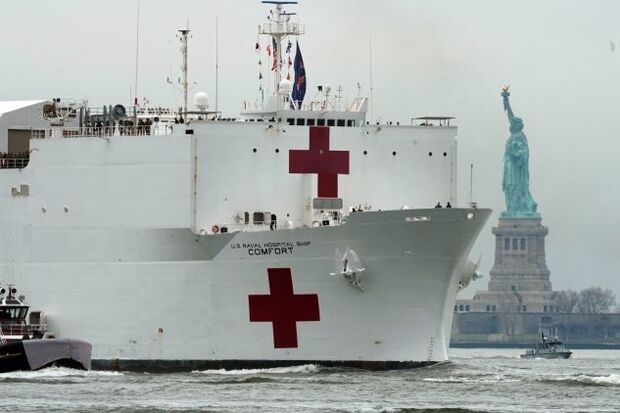 Testing, Treatment & Shortages
New York City Marshals All Hospitals: New York City is reorganizing its entire public and private hospital system, transforming some or all of them into sites for Covid-19 patients needing intensive care while other patients are diverted to temporary facilities. The city today got closer to its goal of reaching over 60,000 beds by the beginning of May, which would triple its capacity from the beginning of March, Mayor Bill de Blasio said at a news conference.
The USNS Comfort, a U.S. Navy hospital ship with 1,000 beds, arrived in the city yesterday morning and will start treating patients who don't have the coronavirus but still need care, relieving pressure on the system. De Blasio said that the city still needs "40 more" Comfort-size ships to reach a goal of tripling hospital capacity. "That's the magnitude of what we're talking about," said de Blasio, who has said half of New Yorkers could contract the virus. Read more from Amanda Albright and Henry Goldman.
FDA Expands Access to Gear: The FDA is taking steps to expand the availability of surgical gowns, gloves, and device sterilizers to help shield employees against the coronavirus. The FDA issued final guidance yesterday to increase the supply of personal protective equipment used by surgeons to examine their patients. The agency also released final guidance on Sunday to help device makers keep a reasonable supply of medical equipment cleaners and air purifiers. Read more from Ayanna Alexander.
Ford Aims to Start Making Ventilators With GE in Three Weeks: Ford is speeding up plans to produce ventilators in cooperation with General Electric by selecting a simpler design of the medical devices and will aim to churn out 50,000 units in the next 100 days. The automaker will convert an auto-parts plant in Michigan to make breathing machines designed by Airon Corp. and licensed by GE Healthcare starting the week of April 20, according to a statement. The new configuration they've chosen will allow the companies to start production before another type of ventilator they announced last week, which won't be ready until June. Read more from Keith Naughton and Richard Clough.
Converting Nursing Homes: States should direct nursing homes to create new units for Covid-19 patients as the facilities take on more overflow patients from nearby hospitals overwhelmed by the pandemic, an industry group urged. They should also explore moving nursing home residents to other facilities to create dedicated coronavirus treatment centers that can take hospital discharges, the American Health Care Association, which represents the nursing home industry, said in the letter. Read more from Tony Pugh.
More Headlines:
Quarantines & Wider Impacts
Trump's Easter Restart Undone by His Experts: As Trump's coronavirus response team gathered at the White House Sunday to discuss re-opening the U.S. for business by Easter, his top health experts painted a troubling picture of what lay ahead.
Deborah Birx, an immunologist picked by Vice President Mike Pence to weigh the ailment's impact, cautioned that the U.S. outbreak was still two weeks away from its peak. Her reading of the data also led her to an even more worrisome conclusion: that the nation was likely tens of thousands of hospital beds short of the anticipated need.
The conversation moved into the Oval Office, where aides presented Trump with their harrowing findings, according to two people familiar with the matter. Birx and her longtime mentor, Anthony Fauci, told the president that the virus could kill 100,000 to 200,000 Americans and infect millions.
The fresh information — and unanimity among Trump's top public-health advisers — set the stage for a reversal on Sunday by the president, who had said a week earlier that he wanted to relax by Easter, April 12, the strictest social-distancing rules that were smothering the U.S. economy. Justin Sink, Jennifer Jacobs and Jordan Fabian have more on what led to Trump's change in decision.
Inmates Feared at Risk: House Judiciary Chairman Jerrold Nadler (D-N.Y.) and Rep. Karen Bass (D-Calif.) called on Attorney General William Barr to move "medically-compromised, elderly, and pregnant prisoners" held by the Federal Bureau of Prisons to confinement at home to protect them from the coronavirus crisis. "In addition, we urge that you use every tool at your disposal to release as many prisoners as possible," the lawmakers said in a letter to Barr, citing authority given to him under the stimulus package, Vivek Shaknar reports.
Europe Could Start Stabilizing Soon: European countries that took measures two to three weeks ago will probably begin to show some signs of stabilization soon, according to Mike Ryan, head of health emergencies at the World Health Organization. WHO hopes that Italy and Spain are almost at their peak, though reducing the number of new cases requires proactive measures, Ryan said at a press briefing yesterday.
To know if they're testing widely enough, countries should be getting about 10 negative results for every confirmed infection, Ryan added. "If 80 or 90% of the people you test are positive, you are probably missing a lot of cases." All Covid-19 patients should be taken to health facilities instead of staying at home, and any close contacts also ideally should be isolated outside the home, Ryan said. Read more from Bloomberg News.
More Headlines:
What Else to Know
Abortion Ban to Save Masks: A federal judge ordered Texas to temporarily stop enforcing its ban on abortions, which state leaders had declared medically unnecessary procedures that wasted scarce medical resources needed to fight the coronavirus pandemic. Gov. Greg Abbott (R) last week threatened doctors with fines and jail for performing even medication abortions that don't require the use of personal protective equipment, such as surgical masks and sterile gloves and gowns. Only abortions needed to save the life of the mother were allowed under the governor's order.
"The executive order, as written, does not exceed the governor's power to deal with the emergency," U.S. District Judge Lee Yeakel decided yesterday. "But the attorney general's interpretation of that order constitutes the threat of criminal penalties against those whose interpretations differs." Read more from Laurel Brubaker Calkins.
Abortion providers in Ohio and Alabama yesterday added new claims to existing federal lawsuits that address the states' threats to close clinics in response to the new coronavirus, meanwhile two more states—Iowa and Oklahoma—were hit with new suits challenging the impact of their Covid-19 measures on abortion access. The providers suing Iowa in state court claim Republican Gov. Kim Reynolds' coronavirus emergency declaration violates the state constitution to the extent it's interpreted to ban abortion for the duration of the emergency. Read more from Mary Anne Pazanowski.
Related:
HHS Watchdog Targets Cyber Threats: Protecting patients' health information from potential cyber attacks is a top priority for the HHS' watchdog, according to a five-year strategy published yesterday. HHS's Office of the Inspector General's updated strategy outlines goals to fight fraud and abuse, promote quality and safety, and advance innovation. Fighting against cybersecurity threats within the HHS and the health-care sector is one of the newly added priorities in the OIG's strategy, which was last updated for 2014 to 2018. Ayanna Alexander has more.
FDA Asks to Delay E-Cigarette Deadline: The FDA asked a federal judge to grant a 120-day delay for a deadline for e-cigarette manufacturers to submit applications to keep their products on the market. Citing "the exceptional circumstances presented by the global coronavirus outbreak," the agency proposed moving the deadline to Sept. 9, from May 12. The existing deadline was the product of a legal agreement in federal court, after regulators, public-health groups and vaping companies fought over the timing for years. Read more from Angelica LaVito.
More Headlines:
To contact the reporter on this story: Brandon Lee in Washington at blee@bgov.com
To contact the editors responsible for this story: Giuseppe Macri at gmacri@bgov.com; Zachary Sherwood at zsherwood@bgov.com; Michaela Ross at mross@bgov.com
Stay informed with more news like this – from the largest team of reporters on Capitol Hill – subscribe to Bloomberg Government today. Learn more.