HEALTH CARE BRIEFING: More in U.S. Now Vaccinated Than Infected
Bloomberg Government subscribers get the stories like this first. Act now and gain unlimited access to everything you need to know. Learn more.
More Americans have taken at least one dose of a Covid-19 vaccine than have tested positive for the coronavirus, an early but still hopeful milestone in the race to end the pandemic.
As of yesterday evening, 26.5 million Americans had received one or both doses of the current vaccines, data gathered by the Bloomberg Vaccine Tracker show. Since the first patient tested positive in the U.S. nearby Seattle a year ago, 26.2 million people in the country have tested positive for the disease, which has killed nearly 450,000 people, Johns Hopkins University data showed.
The U.S. has been administering vaccines at a faster daily rate than any country in the world, giving about 1.35 million doses per day, according to data gathered by Bloomberg News. While the rollout stumbled in its early days, in the six weeks since the first shots went into arms almost 7.8% of Americans have gotten one or more doses, and 1.8% are fully vaccinated.
"It's worth noting that today—for the first time—the data said more people were vaccinated than were reported as newly diagnosed cases," Paula Cannon, a professor of microbiology at the University of Southern California, said. "That's worth celebrating. I'm all for that win."
Only a few other countries have surpassed the milestone: Israel, the U.K. and the United Arab Emirates beat the U.S. to the more-vaccinations-than-cases level days or weeks ago. After the holiday surge in U.S. cases, Centers for Disease Control and Prevention officials are calling the top, though that's likely due to behavioral changes and not a major impact from the vaccines.
New infections, hospitalizations, and emergency-department visits are beginning to fall, said Jay Butler, the agency's deputy infectious disease chief. "While these trends are encouraging, I want to stress that the numbers nationally are still high, and they're as high as they've been at any point in the pandemic up to this point," he said Friday. "If this pandemic were a stock, we might be wanting to sell." Michelle Fay Cortez and Emma Court have more.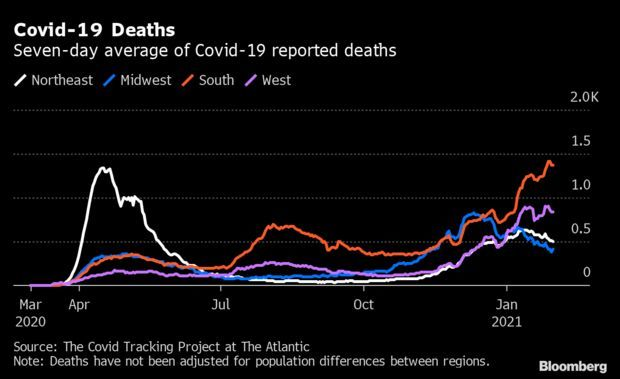 Happening on the Hill
Biden Stimulus May Be Democrat-Only Despite Cordial GOP Meeting: President Joe Biden and congressional Democrats signaled they're intent on a large pandemic relief bill, potentially without Republican support, even after a White House meeting with GOP senators on Monday that both sides described as productive.
While the 10 senators who participated described the meeting as "excellent" with "a very productive exchange of views," in a joint statement, White House Press Secretary Jen Psaki said Biden had emphasized that Congress had to act urgently and "boldly" and had pointed out many areas of disagreement with the Republicans.
House Speaker Nancy Pelosi (D-Calif.) and Senate Majority Leader Chuck Schumer (D-N.Y.) meanwhile introduced a budget resolution on Monday, the first step required to use a procedure called "budget reconciliation" that would allow much of Biden's $1.9 trillion stimulus to pass the Senate with only 51 votes.
Biden and the 10 Republicans agreed to have their aides continue to negotiate a bipartisan relief plan. The legislation is the president's top priority, and conceding to a GOP proposal that is one-third the size would be taken by his supporters on the left as a defeat.
While Biden "is hopeful" that what he calls the American Rescue Plan "can pass with bipartisan support, a reconciliation package is a path to achieve that end," Psaki said. Read more from Justin Sink and Jordan Fabian.
Senate Republicans Counter Biden's Covid Aid Plan: Bloomberg Government's legislative analysts offer a selected list of items from the administration's initial proposal that weren't included in the outline circulated by the group of 10 Republican senators on Feb. 1. Read the full analysis here.
House Panel Plans Vaccine Oversight Hearing: The House Energy and Commerce Oversight and Investigations Subcommittee will hold a hearing featuring state health officials discussing the challenges of Covid-19 vaccine distribution and administration, and what Congress can do to help the effort, according to a press release.
House Panel Probing Meatpacking Covid-19 Outbreaks: A congressional panel overseeing the pandemic launched an investigation yesterday into Covid-19 outbreaks at meatpacking plants, targeting industry giants and the Occupational Safety and Health Administration for failing to adequately guarding workers. Tyson Foods, Smithfield Foods, and JBS received requests from House Select Subcommittee on the Coronavirus Crisis Chair James Clyburn (D-S.C.) to provide information on infections and deaths at plants. Read more from Megan Boyanton.
Biden Pushed to Strengthen Mask Guidelines: Biden's congressional allies said the CDC and the Food and Drug Administration should provide the public updated information on the effectiveness of different kinds of masks to prevent the spread of Covid-19. "Wearing a cloth face mask is still the official recommendation of the CDC, but there has been little education or outreach about what kind of masks are most effective," the four lawmakers including Sen. Bernie Sanders (I-Vt.) said in a letter. Read more from Caitlin Webber.
More on the Pandemic
U.S. Lacks Race Data on Vaccinations: The first detailed picture of the nation's vaccination campaign shows a low uptake among long-term care workers and wide gaps in data on the race and ethnicity of Americans getting the vaccine.
At more than 11,000 nursing facilities, a median of 78% of residents got at least one shot in the early weeks of a federal program run with CVS Health and Walgreens. Among staffers, the equivalent level was 37.5% vaccinated, according to data released yesterday by the CDC.
A second CDC report found that while age and sex data was recorded for almost all of the 13 million Americans who got at least one dose through Jan. 14, the government lacks data on race and ethnicity for half of those immunized. "We cannot ensure an equitable vaccination program without data to guide us," said Marcella Nunez-Smith, who leads the White House's Covid-19 Health Equity Task Force. "I'm worried about how behind we are. We must address these insufficient data points as an urgent priority." Read more from John Tozzi.
PPE Gaps Spur Post-Virus Production Goal: The Biden administration is working on getting a full picture of what the demand for personal protective equipment could be after the Covid-19 crisis subsides, and where there are still gaps in domestic manufacturing, Brig. Gen. David Sanford, director of the U.S. government's supply chain task force, told Bloomberg Law in an interview. The government is having an "honest discussion" of where domestic medical gear production gaps exist, Sanford said. Read more from Shira Stein.
U.S. Invests $232 Million for At-Home Tests: The U.S. government is investing $231.8 million to ramp up production of at-home Covid-19 tests that don't require a prescription. Australian test-maker Ellume said it'll deliver 8.5 million at-home tests in 2021, according to a statement. It plans to open its first U.S. factory, which will increase global production capacity by at least half a million tests a day from the current rate of 100,000. Read more from Emma Court.
More Headlines:
Global Headlines:
What Else to Know
Judge Delays Part of Trump-Era Drug Rebate Rule: Part of a Trump administration rule that targets the drug rebate system is now delayed until 2023, after a pharmacy liaison group said in court it would significantly disrupt negotiations with drugmakers. A provision of the Health and Human Services Department rule, which would change payments to pharmacy benefit managers so that they can't fluctuate based on the price of a drug, was set to take effect January 2022. Ian Lopen has more.
More Headlines:
To contact the reporter on this story: Brandon Lee in Washington at blee@bgov.com
To contact the editors responsible for this story: Zachary Sherwood at zsherwood@bgov.com; Giuseppe Macri at gmacri@bgov.com; Michaela Ross at mross@bgov.com
Stay informed with more news like this – from the largest team of reporters on Capitol Hill – subscribe to Bloomberg Government today. Learn more.