HEALTH CARE BRIEFING: Health Chiefs to Testify Amid Testing Woes
Bloomberg Government subscribers get the stories like this first. Act now and gain unlimited access to everything you need to know. Learn more.
Key Biden administration health officials will face a grilling from both Democratic and Republican senators today on why Covid-19 testing and prevention efforts remain hampered more than two years since the virus first started to spread across the globe.
Sen. Patty Murray (D-Wash.) will lead Democrats in demanding federal health leaders outline a plan for reducing Covid-19 cases across the U.S. and expanding access to coronavirus tests and therapeutics.
"These are not new challenges—I have been raising many of these concerns since the earliest days of this pandemic," Murray is set to say, according to prepared remarks shared with Bloomberg Government ahead of the hearing. "So, I'm frustrated we are still behind on issues as important to families as testing, and supporting schools. That's not to say we haven't made progress—it's just clear we haven't made enough."
Rochelle Walensky, director of the Centers for Disease Control and Prevention; Anthony Fauci, director of the National Institute of Allergy and Infectious Diseases; Janet Woodcock, acting head of the Food and Drug Administration; and Dawn O'Connell, the top federal official for pandemic preparedness, will appear before the Senate Health, Education, Labor and Pensions today. Murray is the chair of that committee.
The four officials will face lawmakers as Covid-19 cases in the U.S. hit historic highs, prompting complaints from many Americans about not being able to access either a laboratory or at-home test. In response, Sen. Bernie Sanders (I-Vt.), who sits on the HELP committee, and Reps. Adam Schiff (D-Calif.) and Ro Khanna (D-Calif.) led a letter from more than 40 Democrats to President Joe Biden urging him to use the power of the executive branch to manufacture enough tests to ensure every American could take one each week.
Republican leaders, including Sen. Richard Burr (R-N.C.), ranking member of the committee, have begun demanding an accounting for how the Biden administration has spent more than $80 billion appropriated by lawmakers to expand testing options, Alex Ruoff reports.
Congressional Agenda Webinar
Join Bloomberg Government's legislative analysts tomorrow at 11 a.m. for a deep dive into the policy areas, spending fights, and other activity to watch on Capitol Hill this year.
The analysts will discuss Democrats' social spending package, fiscal 2022 spending negotiations, and legislation to address U.S. competition with China. Register here.
More on the Pandemic
Biden Team Mandates Coverage of Rapid, At-Home Covid Tests: The Biden administration moved yesterday to require private insurance companies and group health plans to cover the cost of at-home, rapid Covid-19 test kits beginning on Jan. 15. The new policy will cover a certain number of tests per month, depending on the size of the covered family, the Centers for Medicare and Medicaid Services said.
The new program will allow insurers to set up networks of preferred suppliers to make tests available with no up-front costs, but insurers will still be required to reimburse up to $12 a test for claims for tests that people buy elsewhere, the Health and Human Services Department said.
The new coverage—and plans to ship 500 million at-home test kits any Americans who want them—is key to the administration's effort to curtail the virus' spread. But by making the tests effectively free for consumers with private coverage, insurers fear the costs of the tests could skyrocket. Read more from Tony Pugh.
Vaccine Rule Offers Weapon to Limit Agency Power: The Supreme Court's imminent decision on whether to block the Biden administration's Covid-19 vaccine-or-test rule for large employers will likely turn on a judicial doctrine that may restrict agency authority to act on major issues facing the country, several legal scholars said. The court's discussions of the "major questions doctrine" late last week left some legal observers wondering if the justices will expand its use to tie federal agencies' hands in the face of emerging threats like the coronavirus pandemic. Read more from Robert Iafolla.
Gilead Says FDA Verdict on Remdesivir Imminent: Federal regulators could decide within a week or two whether to approve a shorter course of Gilead Sciences' Covid-19 drug remdesivir that can be used for patients outside the hospital, where it's currently used in 5-day stints, CEO Daniel O'Day said in an interview. Gilead has asked for U.S. clearance of a three-day course that could be used in the outpatient setting, after a trial last year showed it could sharply reduce hospitalizations in at-risk patients. Read more from Robert Langreth.
Biden Seeks Chicago Schools Opening: The Biden administration urged Chicago's mayor and teachers union to strike a deal to return children to classrooms as the high-profile battle undercuts his push to keep schools open across the U.S. Late last night, Mayor Lori Lightfoot announced that the Chicago Teachers Union and Chicago Public Schools had agreed to resume in-person classes on Wednesday. "After a productive day at the bargaining table, I am pleased to report, CTU will end their work stoppage," she said on Twitter. The union's members must still vote on the agreement. Josh Wingrove and Nic Querolo have more.
More Lawmakers Test Positive: Rep. Nancy Mace (R-S.C.) last night in a statement said she had tested positive for Covid-19, hours after Rep. John Katko (R-N.Y.) said in a tweet he's tested positive and has mild symptoms. He said he will vote by proxy this week. Separately, House lawmaker Ben Cline (R-Va.) said he tested positive on Saturday. All three are vaccinated. At least 10 House lawmakers in the last week have announced they've tested positive, Alex Ruoff reports.
New York Sees Signs of Omicron Peak: New York's Covid-19 infections may have reached a peak, about a month after the city's first case of the omicron variant was identified. The seven-day average of people visiting New York emergency departments with Covid-like illness has dipped significantly in all five boroughs since the end of December, data from the city's health department show. Read more from Jonathan Levin.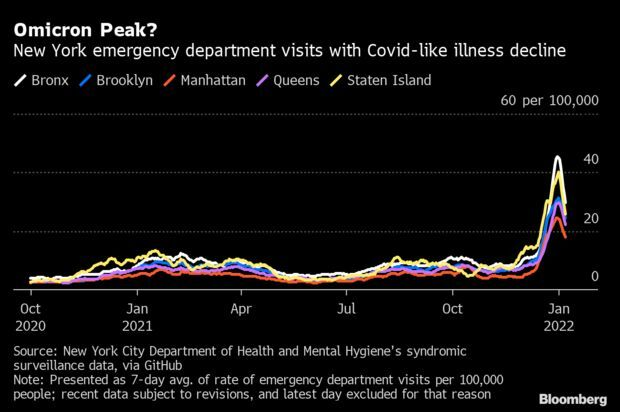 More Headlines:
What Else to Know Today
Democrat Pushes FDA to Limit Chemicals in Food: An Illinois congressman is pushing U.S. health officials to act on a request to ban chemicals commonly used in food packages that have been shown to affect the reproductive system and children's cognitive development. Rep. Raja Krishnamoorthi (D-Ill.), chair of the House Oversight and Reform Committee's consumer policy panel, wants acting FDA chief Woodcock to explain what evidence the agency has that the levels of "phthalates" it currently allows in food packaging are safe. Read more from Anna Edney.
Aduhelm Price Cut Prompts Medicare Premium Review: Biogen's decision last month to cut the price of its Alzheimer's drug in half has spurred the top U.S. health official to order a review of Medicare premium hikes tied to the drug. Health and Human Services Secretary Xavier Becerra instructed the Centers for Medicare & Medicaid Services to re-evaluate the planned member premium increases for Medicare coverage in 2022, according to a statement yesterday. The high price tag of Aduhelm, initially $56,000 a year, and uncertainty over how many patients might take it drove large hikes in Medicare premiums this year.
About half of the annual increase in Medicare Part B premiums in 2022, or roughly $11 a month, is to prepare for the possible cost of Aduhelm and similar drugs. The review follows criticisms that Aduhelm is a budget-busting drug with unclear benefits. Angelica LaVito and John Tozzi have more.
Manufacturers Fear Devices or Drug Re-Classification: Patients could face disruptions in medical treatment if the FDA moves ahead with plans to regulate some products as devices instead of drugs, according to manufacturers who decry such change as onerous and time-consuming. The FDA is reviewing whether certain products long regulated as drugs—like contrast imaging agents patients take before MRI or CT scans to provide clearer images—must transition to device status. It was a win for manufacturers seeking device status for new products. Celine Castronuovo has more.
SCOTUS Weighs Florida Medicaid Dispute: The Supreme Court struggled yesterday on whether a state may be reimbursed for past medical care by tapping into money won by a Medicaid beneficiary in a personal injury lawsuit for future medical expenses. During almost two hours of oral arguments, the justices wrestled with how broad or limiting various provisions of the Medicaid Act should be read. Lydia Wheeler has more.
Texas Abortion Providers Rebut 'Business as Usual' Claim: Abortion providers in Texas pushed back against a Fifth Circuit judge's statement that state-court orders have permitted them to return to doing "business as usual" despite a law that bars abortions after about six weeks of pregnancy. Contrary to Judge Edith H. Jones' suggestion, Texas state courts haven't issued broad orders halting enforcement of the law, an attorney for Planned Parenthood Federation of America told the Fifth Circuit. Read more from Mary Anne Pazanowski.
More Headlines:
To contact the reporters on this story: Alex Ruoff in Washington at aruoff@bgov.com; Brandon Lee in Washington at blee@bgov.com
To contact the editors responsible for this story: Zachary Sherwood at zsherwood@bgov.com; Giuseppe Macri at gmacri@bgov.com; Michaela Ross at mross@bgov.com
Stay informed with more news like this – from the largest team of reporters on Capitol Hill – subscribe to Bloomberg Government today. Learn more.