HEALTH CARE BRIEFING: Biden Prodded to 'Go Big' on Drug Pricing
Bloomberg Government subscribers get the stories like this first. Act now and gain unlimited access to everything you need to know. Learn more.
Democrats are urging the White House to include their health policy ideas in the next phase of President Joe Biden's infrastructure push, with hopes of gaining an edge over colleagues with competing plans.
Congressional leaders, top senators, and rank-and-file Democrats say they've put in calls or made trips to the White House this week plugging legislation to broaden health insurance, expand Medicare, or lower drug prices. But Biden has kept quiet on whether he intends to include health care as part of the next phase of his infrastructure plan, which has left some lawmakers fearful it's being left out.
"I've talked with folks at the White House and I know other colleagues have as well because we'd love very much to see something on Medicare" in a new Biden infrastructure proposal, Sen. Debbie Stabenow (D-Mich.) told reporters.
The next piece of Biden's massive infrastructure and economic proposal, called the American FamiliesPlan, isn't expected to include boosting health coverage or reduce prescription drug costs, The New York Times reported yesterday. White House press secretary, Jen Psaki, didn't mentioning any health care policies while outlining what would be included in that plan.
Sens. Stabenow, Tammy Baldwin (D-Wis.) and Sherrod Brown (D-Ohio) introduced a bill this week that would let Americans beginning at age 50 buy into Medicare. Stabenow said the White House hasn't indicated if Biden would support their measure.
Their measure shares the same goal as Sen. Bernie Sanders's (I-Vt.) drive to expand Medicare eligibility broadly to Americans starting at age 55. Rep. Pramila Jayapal (D-Wash.), who helped to lead a unity task force between progressive Democrats like herself and the Biden team, said she's also pushing to include a Medicare expansion.
In addition, House leaders yesterday reintroduced their signature drug-pricing measure that would direct the government to negotiate with drugmakers for lower prices on certain drugs, hoping it will become part of the infrastructure plan. "Lowering health costs and prescription drug prices will be a top priority for House Democrats to be included in the American Families Plan," Speaker Nancy Pelosi (D-Calif.) said. Alex Ruoff has more.
Drug Pricing Group to Launch Ads: A drug pricing group will launch ads in response to the report that Biden's next plan will exclude drug cost reduction initiatives, Alex Ruoff reports. The Patients for Affordable Drugs Now is launching ads to run on broadcast and cable news in the Washington D.C. TV market, and on multiple digital platforms, Alex Ruoff reports. The campaign launches today with a new ad highlighting Biden's promise to allow Medicare to negotiate for lower prices. It will also include patient mobilization and other activities.
Happening on the Hill
Health Policy Picks Move to Confirmation Votes: Biden's picks to lead his Medicare agency and serve as deputy health secretary advanced out the Senate Finance Committee yesterday over GOP objections. The panel approved Andrea Palm, nominated as the Health and Human Services deputy secretary, on a 20-8 vote. Chiquita Brooks-LaSure, picked to head the Centers for Medicare and Medicaid Services, split the committee by party, 14-14. Alex Ruoff has more.
VA Medication Disposal Bill Passes Senate: The Senate yesterday by unanimous consent passed legislation (S. 957) to direct Veterans Affairs to ensure that select medical facilities have places to dispose of controlled substance medications. A substitute amendment from Sens. John Kennedy (R-La.), Jon Tester (D-Mont.) and Jerry Moran (R-Kansas) was agreed to by unanimous consent. "Many opioid users rely on unused prescription medications that belong to family and friends, and Americans can help fight opioid addiction simply by clearing out their medicine cabinets," Kennedy said in a statement.
Democrats Push U.S. Drug Manufacturing: Sens. Elizabeth Warren (D-Mass.) and Tina Smith (D-Minn.) unveiled a bill that seeks to "reinvigorate" U.S. manufacturing capacity and "end the nation's reliance on foreign countries for critical drugs used by millions of Americans," according to a statement. The legislation would require the FDA commissioner and defense secretary to craft a list of "critical drugs" essential for public health, and provide $5 billion to the Biomedical Advanced Research and Development Authority to upgrade drug manufacturing capacity. Read text of the bill here.
Undue Foreign Influence in Science Seen Growing: The NIH has flagged over 500 scientists with possibly inappropriate ties to foreign governments, a signal that undue foreign influence is an increasing threat to U.S. biomedical innovation. The biggest challenge in curbing undue foreign influence is wielding the resources to combat it, federal health officials told the Senate Health, Education, Labor, and Pensions Committee. Top Republican Richard Burr (R-N.C.) expressed concern that there isn't a single entity in charge of identifying the falsification of NIH grant applications. Read more from Jeannie Baumann.
Permanent Air Travel Pandemic Protections Eyed: House Transportation and Infrastructure Chair Peter DeFazio (D-Ore.) and others introduced legislation that would mandate actions such as mask use during pandemics and create a center of excellence to study disease in aviation. The legislation, sponsored by 15 Democrats and backed by 12 unions and industry trade groups, was unveiled in a press release from DeFazio yesterday. Read more from Alan Levin.
The Coronavirus Pandemic
J&J Covid Vaccine Gets CDC Panel Review: Vaccine experts will meet today to review Johnson & Johnson's Covid-19 shot, which has been on hold for 10 days after several cases of rare and serious blood clots. The panel of experts, called the Advisory Committee on Immunization Practices, advises the Centers for Disease Control and Prevention. Its 15 voting members will review the evidence and debate whether J&J's shot should again be used in the U.S., perhaps with new warnings or restrictions, after federal health officials urged pausing use of the shot. Angelica LaVito details what to watch for during today's meeting, scheduled to run from 11 a.m. to 5 p.m.
U.S. to Study Mix-and-Match Scenarios for Vaccine Booster Shots: Fully vaccinated Americans may know in the coming months whether they can mix and match follow-up shots, if variants in the virus that causes Covid-19 make those boosters necessary. The National Institute of Allergy and Infectious Diseases is planning a study to determine what happens if someone receives one type of authorized Covid-19 vaccine, say Moderna's jab, and is boosted with another like the Pfizer's shot. Read more from Jeannie Baumann.
Pfizer, J&J Balk at Calls to Loosen Grip on Covid Vaccine Rights: Pfizer and Johnson & Johnson officials yesterday hailed intellectual property as a major bolster for Covid-19 vaccine distribution, balking at calls from the global community to waive patent rights for broader immunization. The remarks come after government officials, financiers, and drugmakers from around the world met last week to discuss barriers to ramping up Covid-19 vaccine production and distribution. Biden is facing calls from some lawmakers to back a proposal before the World Trade Organization that seeks a broad waiver of rules on IP rights—including patents, copyrights, and trade secrets. Read more from Ian Lopez and Matthew Bultman.
Virus Response Pivots to Address Vaccine Hesitancy: Having made its way through those who lined up eagerly, some desperate, to get vaccinated against Covid-19, the campaign to inoculate every American is now slowing down with surplus supply and open appointments appearing in pockets nationwide. While 3 million shots a day are being administered, that's down from a peak of 3.4 million. And only 75% of about 28 million doses being shipped out weekly will be used at its current pace. All of this suggests the vaccine campaign is evolving. Read more from Angelica LaVito and Drew Armstrong.
Study Shows Deaths Long After First Infection: One of the largest studies of Covid-19 "long haulers" has proved what many doctors had suspected: Not only are many patients suffering a raft of health problems six months after infection, they're also at significantly greater risk of dying. Survivors had a 59% increased risk of dying six months after contracting the SARS-CoV-2 virus, researchers said yesterday in the journal Nature. That excess mortality translates into about 8 extra deaths per 1,000, worsening the coronavirus's hidden toll. Jason Gale has more.
Europe Takes Steps to Reopen as Vaccinations Rise: Western Europe is beginning to loosen restrictions to contain Covid-19, offering relief for the coronavirus-weary region as vaccination programs turn the corner. Italy will lift many restrictions this Monday and Greece in early May. Germany is mulling privileges for people who have been immunized. Yesterday, French Prime Minister Jean Castex told reporters there would be "a cautious and progressive" re-opening of the country starting mid-May. Read more from John Follain, Ania Nussbaum and Paul Tugwell.
Related: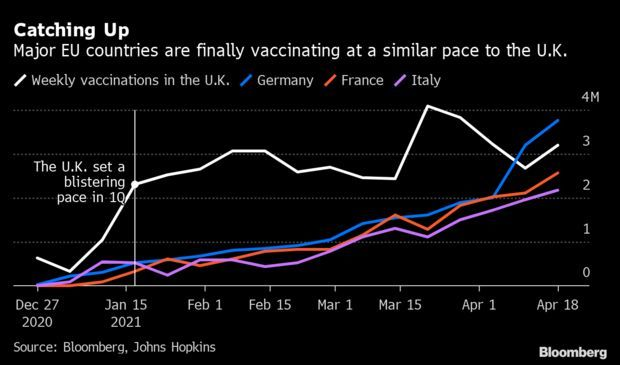 More Headlines:
What Else to Know Today
U.S. Looks for Telehealth Value Added in Price of Care: Telemedicine needs to show where it can add value—cutting health coverage costs or improving access to care—as policymakers consider permanently loosening regulatory restrictions, a White House adviser said yesterday. The telehealth sector and employer groups are lobbying to permanently lift restrictions, such as geographic limits over where telehealth visits may be used or state licensing requirements that bar telehealth providers from serving patients across state lines. Sara Hansard has more.
Purdue Must Explain Payouts, Shield for Sacklers, Watchdog Says: Purdue Pharma is facing a federal bankruptcy watchdog's opposition to disclosures supporting its reorganization plan over concerns that the company hasn't explained how it intends to classify and pay out billions of dollars worth of claims. The OxyContin manufacturer's disclosure statement also fails to adequately explain liability releases for members of the Sackler family, the Justice Department's U.S. Trustee's Office said Wednesday. The Purdue owners are slated to contribute $4.2 billion to the bankruptcy estate as part of a settlement in the case. The watchdog is one of several parties, including a number of states, that have raised objections to the plan and the settlement with the Sacklers. Read more from Daniel Gill.
More Headlines:
With assistance from Alex Ruoff
To contact the reporter on this story: Brandon Lee in Washington at blee@bgov.com
To contact the editors responsible for this story: Zachary Sherwood at zsherwood@bgov.com; Giuseppe Macri at gmacri@bgov.com; Michaela Ross at mross@bgov.com
Stay informed with more news like this – from the largest team of reporters on Capitol Hill – subscribe to Bloomberg Government today. Learn more.