Group Lobs First Major Airwave Strike in Georgia Ballot Royale
The blistering TV ad the Club for Growth released Monday morning against Rep. Doug Collins is the first volley in the party-wide blowback that erupted after the Georgia Republican's decision to challenge recently appointed Sen. Kelly Loeffler.
The group, which advocates for lowering taxes and pledged $3 million to highlight Collins' voting record, used its opening salvo to call him a D.C. swamp-dweller who's "chomping at the bit to spend more of your money."
November's jungle primary special election has also sparked fury from GOP leaders and further promises of financial support to ensure Loeffler wins. While the Club's animus for Collins is ideological, Republican leaders who quickly denounced his campaign fear the multi-million-dollar mudslinging Senate race will smudge the party's candidates running up and down the ballot — including President Donald Trump.
"I don't think anyone will have ever seen a state-wide campaign like this," said Jay Williams, a longtime Republican strategist in the state. "This is going to be a bloodbath because you're going to have two very, very well-funded candidates."
Beyond the money, the concern among party leaders is that the contest will divert Loeffler's attention from helping Trump win over Atlanta's booming suburbs by appealing to women swing voters. Compounding it was the Jan. 30 entrance to the race by Democrat Raphael Warnock, the senior pastor at the city's historic Ebenezer Baptist Church. His non-political vocation and appeal to black voters makes the seat more vulnerable and, with the Senate majority on the line this year, ratchets up the consequences for the GOP contention.
It's Complicated
The ballot-royale special election, which currently includes a total of more than a half-dozen candidates from both major parties, will continue right up until election night. That means pumping out messages aimed at conservatives rather than moderates to ensure a spot in the Jan. 5, 2021 runoff, which will be necessary if no candidate receives a majority of the vote. That message could clash with Republicans who won their regularly scheduled primaries in mid-May and are focused on persuading and turning out independents and swing voters.
Among federal races, the party is also defending first-term Sen. David Perdue and the open 7th District, and hopes to win back the 6th District it lost in 2018. Meanwhile, the Democratic presidential nominee will likely compete in the diversifying state that Trump carried with less than 51% of the vote in 2016.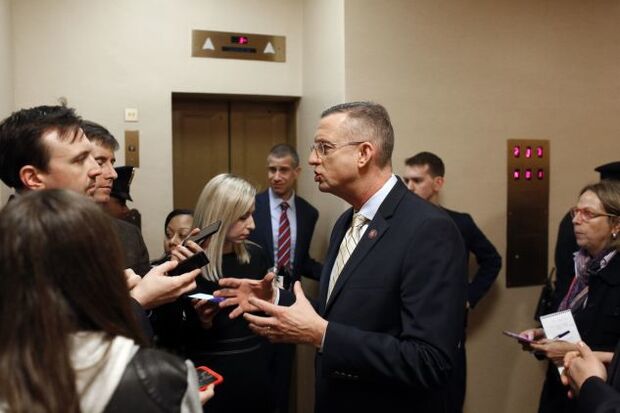 The National Republican Senatorial Committee, which backs incumbents, slammed Collins last week for "shortsightedness" and "selfishness."
"All he has done is put two Senate seats, multiple House seats, and Georgia's 16 electoral votes in play," executive director Kevin McLaughlin said in a statement.
The Senate Leadership Fund, a super PAC aligned with Senate Majority Leader Mitch McConnell, also criticized Collins and made clear its support for Loeffler. "We'll have her back if she needs us," SLF President Steven Law said in a statement.
Moderate Georgia voters subjected to endless attack ads for the Senate seat might be turned off from voting for Republicans, said J. Miles Coleman, associate editor for the University of Virginia's Crystal Ball website.
"As a party, you always want to give the perception that you are united and not fractious," said Coleman. "This kind of creates a narrative that goes against that."
The match is complicated further because both candidates have legitimate arguments as the most supportive of Trump. Collins defended Trump during the House impeachment hearings as the top Republican on the Judiciary Committee, was selected to be part of a team of lawmakers helping the defense during the trial, and frequently appeared on Fox News Channel during the process to back the president's position.
Loeffler, a wealthy financial executive and major party donor, had no political experience when Georgia Gov. Brian Kemp chose her to fill the seat of former Sen. Johnny Isakson (R), who resigned at the end of 2019. Kemp's pick was a bid to keep the suburbs in play despite a growing anti-Trump sentiment. But Loeffler has been outspoken with her criticism of impeachment and slammed fellow Sen. Mitt Romney's (R-Utah) support for calling witnesses during the trial. In return, Trump singled her out for praise at a Rose Garden ceremony.
Downballot Dominoes
Charles Bullock, a political science professor at the University of Georgia, downplayed the potential negative downballot effect, regardless of how expensive and messy it gets. He cited the state's lack of straight-ticket voting, which makes it more likely voters can separate their feelings about the race's big names from other candidates.
But Bullock said the candidacy of Warnock, who for the past 15 years has preached from Martin Luther King Jr.'s former pulpit, will likely mobilize black voters, especially in the 6th and 7th districts.
A National Republican Congressional Committee spokeswoman said she is not anticipating the Senate special election to hurt the party's chances in House races.
Rep. Buddy Carter (R-Ga.) said he'd prefer to have only one candidate but was skeptical a race between two strong choices would harm his own re-election. It could even boost turnout he said, as long as the ads don't get too negative.
"It could backfire," he said. "But I expect it to be issue-oriented, and both of them are highly professional. So, we'll see what happens."
To contact the reporter on this story: Emily Wilkins in Washington at ewilkins@bgov.com
To contact the editors responsible for this story: Kyle Trygstad at ktrygstad@bgov.com; Bennett Roth at broth@bgov.com