GOP Primary Ads Target Candidates' Trump Loyalty, Personal Lives
Super PACs have spent more than $15 million on Senate ads
Most of that is in GOP primaries as party looks to win majority
Bloomberg Government subscribers get the stories like this first. Act now and gain unlimited access to everything you need to know. Learn more.
Senate Republicans hoping to build on the party's electoral success last week must first survive expensive, hard-hitting primaries in states that will decide which party holds the majority in 2023.
Super PACs allied with GOP candidates in Arizona, North Carolina, Ohio, and Pennsylvania are already spending millions of dollars on spots that target fellow Republicans, months before primary voters go to the polls, according to independent expenditure reports filed with the Federal Election Commission. The ads highlight questions of loyalty to Donald Trump, accusations of domestic violence, and alleged softness on illegal immigration.
The ad campaigns could bruise the party's eventual nominees long before competitive general-election contests have even begun, potentially hindering Republicans' hopes of taking back control of the Senate in a favorable political environment.
But the battles could also help weed out bad candidates that wouldn't have performed well in a general election, said Republican consultant Rob Jesmer.
"If it's a tough, competitive primary that produces a competitive candidate, that's OK," said Jesmer, who previously ran the National Republican Senatorial Committee.
Republicans are more optimistic than ever about their chances in next year's midterms, following statewide wins in Virginia, a close gubernatorial contest in New Jersey, and other down-ballot victories. Jesmer said he expects Republicans to take back control of the House and Senate next year.
But what Glenn Youngkin pulled off in Virginia will be difficult for many Republican Senate candidates to replicate, Republican consultant Fred Davis said. Youngkin won the party nomination in a convention rather than a primary, and managed to skirt ties to Trump to win in the general.
That "only would work in Virginia and a few similar states," Davis said. "The majority require much more of a tie or endorsement" from Trump to win a primary.
More than $15 million worth of TV, radio, digital, and direct mail ads sponsored by super PACs have aired in Senate battleground states with a year to go until the 2022 general elections. Most of that money was spent on ads in Republican primaries.
Democratic Senate candidates also face crowded primaries in some states but have refrained, so far, from spending on attack ads, according to FEC disclosures.
Jazmin Vargas, spokeswoman for the Democratic Senatorial Campaign Committee, said the Republican candidates' attacks on each other "are alienating the voters who will decide the general election."
"Senate races have been defined by deeply flawed GOP candidates who are fighting with each other in nasty primaries and competing over who can suck up to Trump the most," she said.
Swing Seats
Republicans need to pick up only one seat to take control of the currently evenly split chamber. The party has opportunities to add seats in states such as Arizona and Georgia, but also must defend vulnerable seats, including those of retiring senators in North Carolina, Ohio, and Pennsylvania.
In North Carolina, where Republicans hope to hold the seat of retiring Sen. Richard Burr, Club for Growth Action has allied with Rep. Ted Budd in the Senate GOP primary, running nearly $1.4 million worth of ads touting Trump's endorsement of Budd. The super PAC's ads also include messages attacking a Budd primary rival, former Gov. Pat McCrory, accusing him of approving "taxpayer subsidies for a company owned by the Chinese Communist Party."
There are also ads not focused on Trump, including in Pennsylvania, where Sen. Pat Toomey (R) is retiring. Sean Parnell, a GOP primary contender endorsed by the former president, is being hammered by TV and digital ads accusing him of trying to conceal evidence of domestic abuse. Jobs for Our Future, a super PAC allied with businessman Jeff Bartos, one of Parnell's primary rivals, is spending $150,000 on ads that highlight Parnell's problems, according to FEC reports.
"Sean Parnell is trying to hide his past in order to protect his political campaign," the announcer says in the TV and digital ads. Parnell's wife has accused him of violence in a divorce proceeding. Parnell has denied the allegations.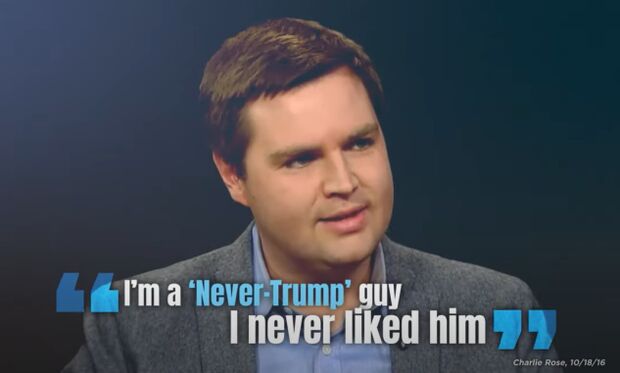 Thiel Super PACs
In Ohio, super PACs allied with former state Attorney General Josh Mandel (R) reported nearly $1 million worth of TV and digital ads attacking Hillbilly Elegy author J.D. Vance (R) for being a "Never Trumper." Punching back is a pro-Vance super PAC funded by an initial $10 million donation by Silicon Valley mogul Peter Thiel, which reported spending over $2 million on digital ads, according to FEC reports.
The anti-Vance messages by Club for Growth Action and USA Freedom Fund exacerbate a GOP primary that kicked off earlier this year with competition for Trump's endorsement. They're vying to replace retiring Sen. Rob Portman (R).
"I can't stomach Trump. I think that he's noxious," Vance says in a old video clip included in a Club for Growth ad. The ad cites Vance statements from before the 2016 election, which Vance repudiated when he announced his Senate candidacy this year. Vance now is "100% Pro-Trump & America First," according to Protect Ohio Values, the super PAC supporting him.
Another Theil-funded super PAC is spending on ads in Arizona to help Blake Masters, who works for an investment firm and foundation headed by Thiel. The PAC, Saving Arizona, has aired attacks on Masters' primary rival Mark Brnovich, the state's attorney general.
"Opposing Trump. Failing on Illegal Immigration," the Thiel-funded super PAC's ad says of Brnovich, pointing to stances he took on a proposed state border law and the census count. FEC reports show Saving Arizona has spent nearly $1.7 million on TV and digital ad airings.
To contact the reporter on this story: Kenneth P. Doyle in Washington at kdoyle@bgov.com
To contact the editors responsible for this story: Kyle Trygstad at ktrygstad@bloombergindustry.com; Bennett Roth at broth@bgov.com
Stay informed with more news like this – from the largest team of reporters on Capitol Hill – subscribe to Bloomberg Government today. Learn more.