GDP Undercuts 'Doomsayers,' Biden Says; Tax Break Push Revived
The latest US economic data shows that the economy "is continuing to power forward" and is not in a recession, President Joe Biden said.
"For months, doomsayers have been arguing that the US economy is in a recession and Congressional Republicans have been rooting for a downturn," Biden said in a statement Thursday. "We need to make more progress on our top economic challenge: bringing down high prices for American families."
US gross domestic product rose at a 2.6% annualized rate in the July to September period after falling for the first two quarters, data released Thursday show. The median projection in a Bloomberg survey of economists called for a 2.4% rise.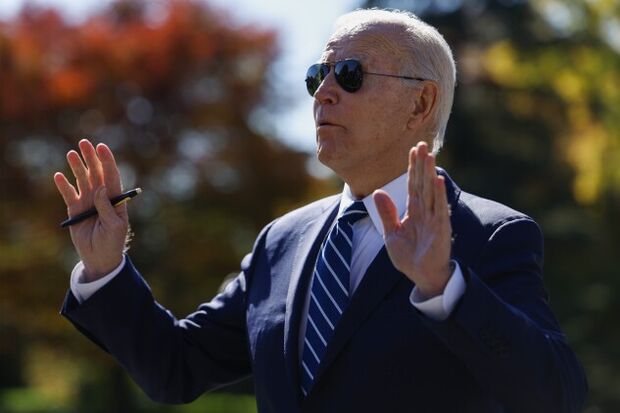 Biden said the data showed "Americans' incomes were up and price increases in the economy came down." Disposable personal income rose 6%, compared to 5.7% in the previous quarter; the price index for gross domestic purchases rose 4.6 percent in the quarter, compared to 8.5 in the previous one.
Despite Biden's efforts to downplay the threat of a recession, economists still expect the US to enter one as the Federal Reserve hikes rates to cool inflation. The median estimate of economists surveyed by Bloomberg forecast a 60% chance of a downturn within the next year.
The president earlier this month said a recession in the US was possible but that any downturn would be "very slight" and that the US economy is resilient enough to ride out the turbulence. Josh Wingrove has the story
More on the US Economy
The US economy rebounded following two quarterly contractions thanks in part to resilient consumers and businesses, though inflation and higher interest rates leave growth vulnerable in the coming months. Read more
Mortgage rates crossed 7% for the first time in more than two decades. Read more
Gasoline shortages rippling across the East Coast are driving up pump prices from New York to Maine, potentially frustrating the Biden administration's effort to rein in energy costs ahead of the election. Read more
Moderate Democrats Push for Deal on Child, Business Tax Breaks
An influential group of moderate House Democrats is pressuring Speaker Nancy Pelosi (D-Calif.) and other party leaders to cut a deal with Republicans on business tax breaks and expanded child tax credit payments.
The New Democrat Coalition, which numbers 99 lawmakers, wants to revive the expanded child-tax credit, which was raised from $2,000 per child to as much as $3,600 in Biden's pandemic response plan in 2021. The higher benefit, which was distributed via monthly payments rather than being included in a tax refund, expired at the end of last year. The group also is pushing renewal of a tax perk for research and development costs that allows companies to write off expenses in the year they're incurred.
Such a deal could be part of a multibillion dollar tax package after the midterm elections but before the new Congress is sworn in. That will be the last chance for Democrats to try for the expanded credit before a likely GOP takeover in the House. Republicans have criticized it for not being tied to work requirements. Read more from Erik Wasson
Happening on the Hill
The Smithsonian's Board of Regents today announced it had identified two "optimal" sites for the National Museum of the American Latino and the Smithsonian American Women's History Museum, Zachary C. Cohen reports. Congress created the two museums in last government funding package of the Trump administration (Public Law 116-260), which set a Dec. 27 deadline to pick their location.
"These locations will create a powerful experience for families visiting our capital to learn about the remarkable contributions made by women and Latino Americans to the fabric of our nation," said Senate Rules Chair Amy Klobuchar (D-Minn.) in a statement.
Senate Republicans who investigated the origin of the virus that caused Covid-19 lay out how it could have started from a laboratory leak, although they underscore the findings lack indisputable evidence.
Sen. John Hickenlooper (D-Colo.) called on the Federal Reserve to pause its aggressive campaign to curb inflation, seeking to pressure the central bank ahead of its anticipated decision next week to raise interest rates by another 75 basis points.
Elections, Politics & Probes
Join BGOV's Final Pre-Election Webinar: Bloomberg Government's election gurus will provide their outlook for the 2022 midterms on a Nov. 1 webinar. They'll offer their take on the issues driving the battle for control of Congress and the key races to watch in the election's final week. Register here .
Rep. Liz Cheney (R-Wyo.), an outcast in her own party because of her vocal criticism of former President Donald Trump, on Thursday formally endorsed Rep. Elissa Slotkin (D-Mich.), who is facing a tough House re-election fight in Michigan.
Billions of dollars in subsidies to farmers and the future of cryptocurrency regulation are at risk of being in the hands of rookie subcommittee chairmen next year, no matter which party wins control of Congress.
Democrats are sticking to plans to plow campaign money into Pennsylvania, following a shaky debate performance by Senate candidate John Fetterman and an increased spending onslaught from Republicans.
Two people armed with handguns and wearing tactical military gear, balaclavas masking their face and the license plates on their cars covered, stood watch over a ballot drop box during early voting last week in Mesa, Arizona.
When Florida Governor Ron DeSantis took to a stage in July to discuss his plan to ban the state's pension system from including Environmental, Social and Governance factors in its investment decisions, he framed it as a way to keep politics out of the process.
Around the Administration
The US government on Thursday issued updated cybersecurity goals for critical infrastructure companies after a previous version sparked industry concerns.
US climate envoy John Kerry will meet President Andres Manuel Lopez Obrador and other Mexican government officials during a visit to Hermosillo, Mexico on Oct. 28 and Oct. 29, the US State Department said in a statement.
Citing burgeoning threats from Russia and China, the Pentagon's new National Defense Strategy rejects limits on using nuclear weapons long championed by arms control advocates and, in the past, by Biden.
The top US official overseeing export controls said he expects a deal with global allies to limit shipments of chip-production equipment to China in the "near term," building on rules Washington announced earlier this month.
Zach C. Cohen in Washington also contributed to this story.
To contact the reporter on this story: Andrew Small at asmall@bgov.com
To contact the editors responsible for this story: Brandon Lee at blee@bgov.com; Giuseppe Macri at gmacri@bgov.com