First Major Test in Post-Trump Elections Kicks Off in Virginia
Ex-Gov. Terry McAuliffe won 5-way Democratic primary
Faces former Carlyle Group executive in November
Bloomberg Government subscribers get the stories like this first. Act now and gain unlimited access to everything you need to know. Learn more.
Virginia's gubernatorial election will feature Democrat Terry McAuliffe and Republican Glenn Youngkin. It will star Donald Trump.
The primary victory Tuesday by McAuliffe, the former governor who was term-limited out of office four years ago, sets up one of the first competitive races in the post-Trump administration era and one that will test the extent of the former president's influence over voters — both Republicans and Democrats.
To win, Youngkin, a former investment firm CEO, will need to woo Republicans in the Virginia suburbs who, frustrated by Trump, cast their votes for Democrats in 2018 and 2020. McAuliffe, hoping to overcome historical headwinds a second time, will tie Youngkin to Trump in a bid to both keep moderate voters on his side and motivate Democrats who might not otherwise be energized to turn out with their party controlling Congress and the White House.
The race is a test case of the two-step Republicans are attempting nationally, said Jessica Taylor, who analyzes governor races for Cook Political Report.
"Trump still wields so much power in the party that you can't alienate him and his supporters, but then you still risk alienating the swing voters as he did when he was in office," she said. "This is very much a first test of that."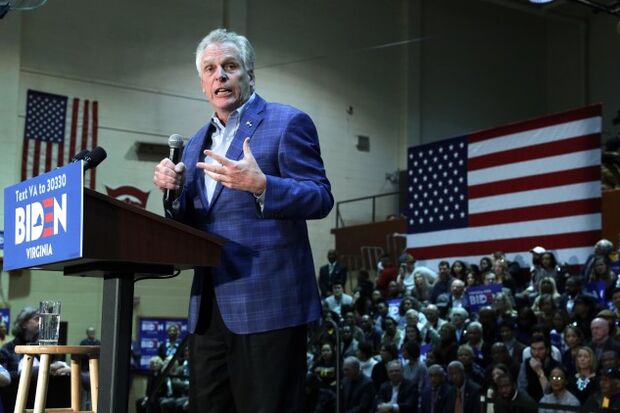 Election handicappers favor Democrats in the first statewide race since Biden won Virginia by 10 percentage points. Hillary Clinton carried the state against Trump in 2016 by 5 points. Both of the state's senators are Democrats, the party controls the General Assembly and the governor's office — Ralph Northam is term-limited, as Virginia prevents governors from serving consecutive terms — and Republicans haven't won a statewide race there since 2009.
Still, the winner will depend on which side is able to best turn out its base, and Virginia's history shows that's usually not the party in power.
Since 1977, when Virginians elected Republican John Dalton as governor the year after Democrat Jimmy Carter won the presidency, the party that lost the White House won the governor's mansion every time but once — the last time a Democrat was elected president. McAuliffe was elected in 2013 after President Barack Obama won a second term.
Ben Tribbett, a Virginia-based Democratic consultant, said McAuliffe previously was helped by running for governor in the fifth year of a presidency, when the national atmosphere was less divisive and the governor race tended to be more about state issues. It also came amid the state's swift shift to blue. Tribbet said this race is a toss-up.
"We are a state that's driven by D.C. politics, and the side that loses is always a little bit more driven to send a message than the side that just won," he said. "Republicans have their best opportunity in some time to win."
Dave Rexrode, executive director of the Republican Governors Association, said on Twitter after the primary was called for McAuliffe that the GOP would seek to make the race a contrast between the former governor's career in politics and Youngkin's career out of it.
The GOP is also challenging in the only other state electing a governor this year. Republicans picked a nominee Tuesday to take on Gov. Phil Murphy (D).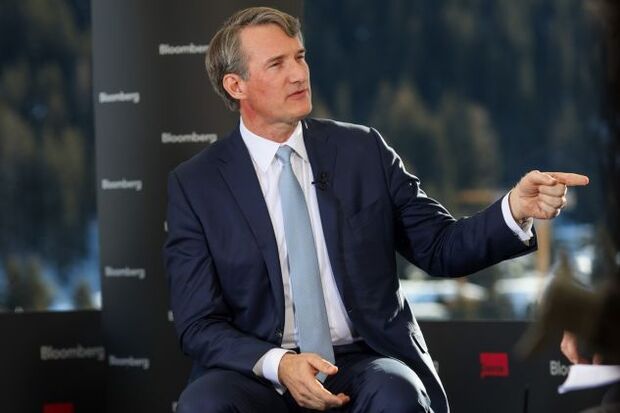 To Trump or Not to Trump
Youngkin emerged as the GOP nominee last month after a complex convention conducted by ranked-choice voting. The former Carlyle Group executive is a well-funded political newcomer with an engaging presence on the campaign trail.
His biggest challenge will be to keep Trump supporters excited while appealing to voters in the suburbs who soured on Trump, Tribbett said.
"We have so many Republican-leaning voters who became Democrats because of Trump," Tribbett said "No one is quite sure if they're going to go home or not."
Youngkin ran to the right to defeat a field of pro-Trump candidates, likening himself to the former president as a political outsider and touting his work helping Trump on a trade deal with China. On his website, his sole policy proposal is to create a task force to study election integrity.
After Trump endorsed him, Youngkin said on a local TV network that he was "honored to receive the president's endorsement" — a quote Democrats in the state expect to re-appear in general election ads.
Former Rep. Denver Riggleman (R-Va.) said Youngkin will need to run more to the middle in the general and "fix some of those far-right issues he had to run to."
Youngkin's goal, Riggleman said, will be to "hold down Trump supporters without ever mentioning Trump during the general election."
He'll also have to navigate lingering doubts about the validity of elections in the Republican Party after Trump and other elected officials claimed — inaccurately — that the 2020 election was rigged.
Rich Anderson, chair of the state GOP, said he's met with voters who believe the 2020 election was fraudulent but understand the stakes are too high for them to sit home.
"I don't believe that is going to chill members of the Republican Party," he said, adding voters think the Democratic-controlled government in Richmond "has moved too far, too fast, and have been ideological extremists."
Since winning the primary, Youngkin has reached out to the center, saying for the first time that Biden won the 2020 election. He has focused his message on issues that are popular for Republicans nationally including criticizing Democrats for not having schools fully reopened and in-person and opposing teaching critical race theory in schools.
Youngkin also began attacking McAuliffe soon after he won the GOP nomination. He's painted the former governor as embracing far-left policies, and his campaign Twitter account recently shared a video of other Democratic candidates criticizing McAuliffe for not having done enough when he was in office.
Former Rep. Tom Davis (R-Va.) said he didn't think Youngkin would need to worry too much about keeping Trump loyalists on his side. Republicans recognize they haven't won anything in over a decade statewide, and if they don't get Youngkin, they'll get McAuliffe.
"They're going to give Youngkin some more latitude," Davis said. "Otherwise Democrats are going to control everything."
Turnout, Turnout, Turnout
Both candidates have enough money to get their message out — as of May 27, McAuliffe raised $12.8 million while Youngkin brought in nearly $16 million, $12 million of which he loaned to himself, according to the Virginia Public Access Project.
McAuliffe began tying Youngkin to Trump during the primary, calling the GOP nominee "an extreme right-wing Republican" and a "loyalist to Donald Trump."
But McAuliffe will also need to ensure Democratic voters are motivated to turn out in a year in which they control everything at the state and federal levels.
To do that, Democrats want a replay of 2020 and are hoping to use Trump to energize their voters, Taylor said.
"They are going to tie Youngkin to Trump — we are seeing Democrats and McAuliffe do it at every turn," Taylor said. "The question is: Is Trump enough of a foil when he is not in office?"
Susan Swecker, the Virginia Democratic Party chair, said Democrats would make the race about what they accomplished in the last two years of controlling the state government, including expanding Medicaid, as well as what McAuliffe did while he was in office.
But the party has also launched a tour dubbed, "Where Trump Leads, Glenn Follows."
Swecker said Virginians have "come too far to allow Donald Trump's handpicked candidate anywhere near the governorship," and the party will "make sure everybody understands Glenn's allegiances to Donald Trump and his policies."
To contact the reporter on this story: Emily Wilkins in Washington at ewilkins@bgov.com
To contact the editors responsible for this story: Kyle Trygstad at ktrygstad@bgov.com; Bennett Roth at broth@bgov.com
Stay informed with more news like this – from the largest team of reporters on Capitol Hill – subscribe to Bloomberg Government today. Learn more.