Deadly Crashes With Roadside Semis Inspire Push for More Parking
Fatalities in crashes with large trucks rise in recent years
Bills to fix parking shortage face hurdles in packed calendar
Bloomberg Government subscribers get the stories like this first. Act now and gain unlimited access to everything you need to know. Learn more.
When a passenger bus rammed into three tractor-trailers parked on the side of a rest area entrance in Illinois last month, the deadly crash drew fresh attention to the dangers of the nation's shortage in truck parking.
"It certainly is a classic textbook case of what we're talking about when it comes to safety," said David Heller, senior vice president of safety and government affairs at the Truckload Carriers Association. "That wasn't the first incident of something like this and unless something is done about it, it's not going to be the last either."
The US faces a shortage of parking for commercial drivers, with national estimates of just one spot for every 11 trucks. The limited spaces can lead to truckers parking in unsafe spots as they waste an average of almost an hour a day hunting for space — crucial time for drivers who need to closely track their hours on the road to meet federal regulations.
Congress, in response, is considering bipartisan legislation (H.R. 2367, S.1034) that would authorize $755 million for truck parking. Industry groups say dedicated funding would help ease the shortage. But the legislation faces challenges as lawmakers wrestle with budget constraints.
The House Transportation and Infrastructure Committee advanced its measure to authorize $755 million over 2024-2026, along with other supply-chain focused legislation that could be considered as a package. Still, Congress faces a packed agenda of must-pass bills when lawmakers return in September, and truck parking could be left by the wayside.
Truckers, who move about 70% of US goods, won praise for continuing to work during the pandemic, even as they faced difficulty finding open bathrooms and food. Solving the truck parking issue hasn't been simple, despite years of advocacy. Meanwhile, deadly crashes involving trucks are increasing.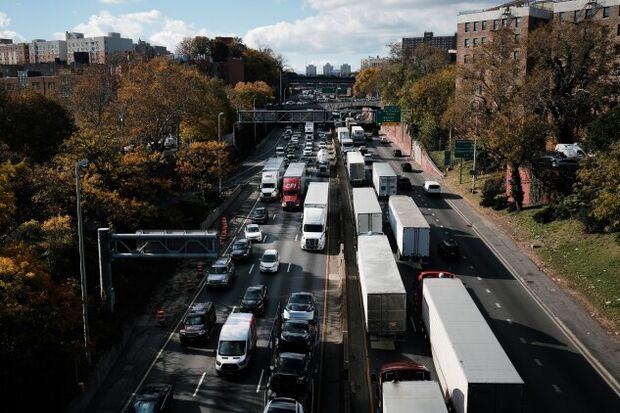 A woman was killed when a car veered off the right shoulder of a highway in Tennessee on July 30, hitting a parked semi-truck whose driver was sleeping on the side of the road.
The Greyhound bus collision into three trucks parked on the right shoulder of a highway exit ramp —killing three and injuring more than a dozen just before 2 a.m. on July 12 — quickly drew national investigators to the Highland, Ill., rest stop scene.
"Rest area safety is going to be one of the things we are going to be looking at closely here," Tom Chapman, a member of the National Transportation Safety Board, said.
The NTSB, which released its preliminary report on the Illinois collision last week, is still investigating the cause and any safety risks posed by trucks on ramps.
"I knew we had a threat to public safety when exhausted truck drivers push that extra mile just to end up sleeping on the highway shoulder on an off-ramp because there's not enough space in our rest areas," said Rep. Mike Bost (R-Ill.), who sponsored the legislation to add more parking. "Let's act before we have another tragedy," he urged his fellow lawmakers before they left for August recess.
'Never Ending Search'
While many recognize truckers need more places to park overnight, that isn't viewed "as a priority to any entity other than the poor man or woman behind the wheel that's struggling to find someplace to stop to get needed rest," said Todd Spencer, president of the Owner-Operator Independent Drivers Association.
"That's a tremendous source of frustration for us," Spencer said.
Hours of service rules limit how long truckers can drive before taking rest. Truckers spend about 56 minutes a day searching for parking, costing drivers thousands of dollars in annual compensation.
"I equate it to finding a parking spot at the mall during Christmas time," Heller, of the Truckload Carriers Association, said. "It's a never-ending search."
The concerns have become more acute as crashes with large trucks have increased in recent years, according to federal data. The Biden administration has been seeking to reduce total traffic deaths as numbers spiked with more drivers back on the road.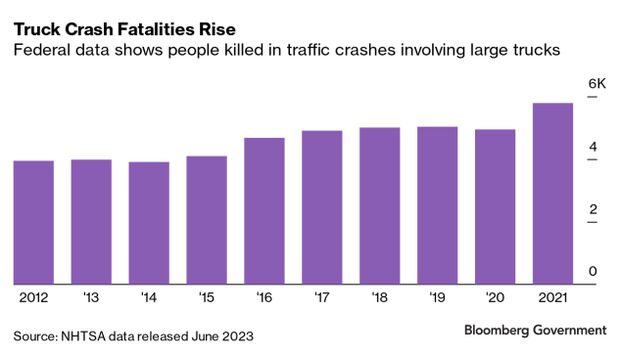 Deadly collisions like the one in Illinois show the shortage of parking has consequences for truckers and others on the road. About 58% of truckers say they are forced to park in unauthorized spots at least three times a week, according to industry groups. California released a study last year that found a steady increase in crashes involving parked trucks from 2014 to 2018, totaling 1,626 crashes over the five years.
The safety concerns go beyond crashes, including worries about personal safety when drivers, especially women, must resort to parking in areas that lack lighting or security, a recent survey shows.
Harassment of Women Truckers Spurs Drivers, Agency to Seek Fixes
"There is not enough truck parking in the United States to support the drivers that are out there, in particular the long-haul drivers, and we hear stories over and over again with drivers about what they have to do to get rest," Robin Hutcheson, head of the Federal Motor Carrier Safety Administration, said in an interview last year.
Awaiting Action
Supply chain troubles amplified during the pandemic fueled lawmakers' interest in remedying weaknesses in the system — though many disruptions have dissipated. House lawmakers are looking to advance a package of supply chain bills on the floor, but face limited time this year and political pressure to hold down spending.
The House truck parking bill drew some pushback about spending at the committee's May markup, yet won approval on a 60-4 vote, along with a slew of other supply chain-focused bills.
Bost said he is still conferring with his House colleagues to find a pay-for that would help the legislation advance through both chambers, and talking to them about the urgency to "prevent the next fatal accident, which could happen in any of their regions too." The Congressional Budget Office scored the parking bill in June. The panel advanced similar legislation by voice vote last year, but the measure stalled. The Senate hasn't acted on its bill.
Supply Chain Bills Targeting Truckers, Ocean Shipping Advance
The legislation has a "real legitimate chance of passing," said Bill Sullivan, executive vice president of advocacy for the American Trucking Associations. Still, he said it would be tough by the end of this year with the focus on appropriations bills as Congress approaches the Sept. 30 end of the fiscal year.
Cosponsor Angie Craig (D-Minn.) said the House bill is bipartisan and urged Speaker Kevin McCarthy (R-Calif.) to schedule a floor vote on it. "Truck drivers do the hard work to keep our supply chains moving and it's our responsibility to protect their safety and wellbeing," Craig said. "We've got the support we need on both sides of the aisle. This should be a no-brainer."
Sen. Cynthia Lummis (R-Wyo.), whose state hosts three major interstates, said she is working to get her truck parking bill approved in committee in the Senate. She said the growing list of bipartisan cosponsors has her "hopeful it will advance this Congress."
Passing legislation with a designated fund for truck parking hasn't proven easy. The bipartisan infrastructure law (Public Law 117-58) didn't designate money for truck parking expansion. That was in a House version of the bill, but the Biden administration has sought to use some discretionary funds instead. The Transportation Department awarded more than $70 million to four projects in recent months.
"The four that they have already made are not going to fix truck parking, but they're definitely beginning to make a dent," Sullivan said. "We're beginning to learn our way through this, but there's a lot to be done."
To contact the reporter on this story: Lillianna Byington in Washington at lbyington@bloombergindustry.com
To contact the editors responsible for this story: Michaela Ross at mross@bgov.com; Robin Meszoly at rmeszoly@bgov.com; Anna Yukhananov at ayukhananov@bloombergindustry.com
Stay informed with more news like this – from the largest team of reporters on Capitol Hill – subscribe to Bloomberg Government today. Learn more.