Congress Flounders on Bipartisan Attempt to Lower Insulin Costs
Senate Republicans try to pump brakes on insulin pricing bill
Diabetes, drug price advocates puzzled on Democratic strategy
Bloomberg Government subscribers get the stories like this first. Act now and gain unlimited access to everything you need to know. Learn more.
Senate Democrats put a central piece of their drug pricing agenda into the hands of their Republican colleagues, only to learn they're not rushing to hand over a win.
That trust may delay a price cap on insulin, which can cost nearly $100 per vial in the US, more than five times the average cost in Canada.
Senate Majority Leader Chuck Schumer has said he plans to hold a vote soon on a measure from a bipartisan duo to cap the out-of-pocket cost of insulin at $35 a month. But passing the legislation from Sens. Susan Collins (R-Maine) and Jeanne Shaheen (D-N.H.) requires the support of Republicans, and key GOP senators say they're not ready for a vote right now.
"I agree we've got to deal with insulin, but I don't think they've got the right mechanism to do it just yet," said Sen. Mike Crapo (R-Idaho), ranking member of the Senate Finance Committee, at the Capitol. Crapo said he agrees with Republicans who want to hold a hearing on the legislation before it's brought to a vote on the floor. Democrats need at least 10 Republicans on board, as long as all Democrats vote in favor; so far, Collins is the bill's only Republican cosponsor.
More than 37 million Americans—about 1 in 10—have diabetes, and many of them manage the condition with insulin, according to the Centers for Disease Control and Prevention. Lawmakers for years have raised red flags about insulin companies hiking up the price of their products despite making few substantial changes.
But Democrats decided to drop insulin-related provisions from a sweeping partisan spending bill that included key elements of President Joe Biden's agenda, and is under negotiation between Schumer and Sen. Joe Manchin (D-W.Va.).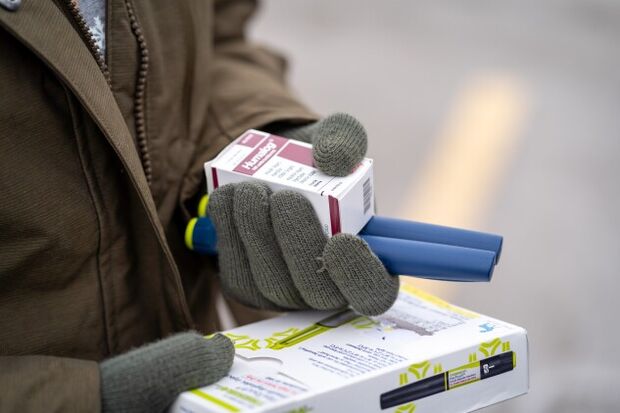 Republicans say they want to act on insulin costs, but aren't yet sold on this particular bill.
Now, some diabetes advocates say the move to strip the insulin provisions could mean those who rely on the medicine are left out of Democrats' broader pescription drug pricing reforms.
Crapo said five Republicans—Pat Toomey (R-Pa.), John Barrasso (R-Wyo.), Rob Portman (R-Ohio), Ben Sasse (R-Neb.), and Steve Daines (R-Mont.)—have pushed for a hearing on the measure. Portman said he "looks forward to hearing more about" the insulin bill and he could support it without a hearing, but still thinks one is needed.
Sen. Chuck Grassley (R-Iowa) this week said he's waiting for the Congressional Budget Office to produce an updated analysis of the bill to understand its impact. He also wants to get a sense of how many drugmakers would voluntarily take up the bill's offer to hold prices to a 2021 level in exchange for a prohibition on rebates. Drugmakers pay rebates to insurers or other entities in the supply chain partly to get better placement on insurance networks.
"The question I have is: would this accomplish what they want, because it's voluntary?" Grassley asked.
CBO on Thursday found the bill would raise the budget deficit by $23.3 billion over 10 years.
July Timeline?
Without GOP support, Democrats face the potential of having control of both chambers of Congress and the White House and not delivering on their campaign promise of meaningful drug price reforms.
The bill sponsors say they're working on building support for the legislation and that costs will be offset. No timetable has been set for a vote, although Shaheen said Wednesday the plan remains to pass it in July.
Earlier: Diabetics Get Promise of Cap on Monthly Costs in Senate Bill (1)
Senate Democrats say caps on copays and other insulin reforms already exist in more than a dozen states, signaling the program works.
"I don't see why we can't get this done," said Sen. Raphael Warnock (D-Ga.), who introduced a bill (S. 3700) establishing the $35-per-month copay cap for insulin earlier this year. "If we don't, it's another sad example of politics getting in the way of the people." Warnock is widely considered among the most vulnerable Democratic senators facing a reelection bid during the midterm election in November.
Crapo said he worries Democrats are simply "rushing" the legislation to the floor to blame Republicans for its failure.
Earlier: Insulin Pricing Measure Delayed as Congress Awaits Cost Estimate
Advocates Push Back
Collins and Shaheen introduced their bill with the backing of more than a dozen diabetes patient groups.
Some working on the issue were puzzled when Democrats this month removed language from the broader spending bill that included the $35-per-month cap on copays, and that would have made insulin prices subject to government negotiations. The proposal now, some insulin products would still see their prices dropped if they're among the costliest to Medicare.
Steve Knievel of Public Citizen, a liberal consumer advocacy organization that's been supportive of Democrats' drug pricing agenda, said the insulin provisions were seen as key to lowering the drug's prices.
Read more: Democrats Plan to Extend Medicare Solvency in New Biden Bill (1)
"We never thought that would be on the chopping block," said Shaina Kasper, a policy manager for T1International, a nonprofit led by people with Type 1 diabetes that seeks to expand access to insulin.
Kasper added her group is "gearing up to throw down" with Democrats over this move, and demand they return the policies to the larger package.
Sen. Ron Wyden (D-Ore.), chairman of the Senate Finance Committee and a key negotiator of the legislation, declined to comment on why the provisions were removed.
To contact the reporter on this story: Alex Ruoff in Washington at aruoff@bgov.com
To contact the editors responsible for this story: Anna Yukhananov at ayukhananov@bloombergindustry.com; Angela Greiling Keane at agreilingkeane@bloombergindustry.com
Stay informed with more news like this – from the largest team of reporters on Capitol Hill – subscribe to Bloomberg Government today. Learn more.