Air Force Updates $25B Training Contract: Top 20 (Corrected)
(Removes reference in fifth paragraph to government 'grandfathering in' incumbent contractors in item published July 16. The government hasn't stated that policy.)
Bloomberg Government subscribers get the stories like this first. Act now and gain unlimited access to everything you need to grow your opportunities. Learn more.
The U.S. Air Force is planning to a release a draft statement of objectives and other documentation this November for its $25 billion training and simulation contract, according to an announcement released on July 9.
Training Systems Acquisition (TSA) IV is the topic of this week's Bloomberg Government Top 20 Opportunities. It will be an omnibus contract for all Air Force training systems and all training-related acquisitions such as requirements analysis, development and production, as well as modifications and sustainment, according to slides presented at a December 2019 industry day.
TSA IV will continue to provide support in the following areas:
Performance-based acquisition of training systems, including design, development, production, installation, integration, test, database generation, and sustainment.
Sustainment of fielded simulation systems, including modifications, upgrades, maintenance, and follow-on production activities.
System modernization, including maintaining concurrency with operational aircraft and technology insertions.
The upcoming contract will have a seven-year base period of performance and eight one-year options with the possibility of task orders, some of which may be small-business set asides. The $25 billion estimated value is based on the costs of 64 existing and 25 potential programs.
The government expects to make awards to both large and small-business primes.
The draft request for proposal was originally expected in November of this year but has likely been delayed, which may push back the intended contract award date of December 2022. An industry day and one-on-one meetings with industry are planned to be held during the Interservice/Industry Training, Simulation and Education Conference (I/ITSEC) 2020 conference in Orlando, Fla. on Nov. 30.
Incumbent Spending
TSA IV is the follow on to TSA III and TSA III SB, which were awarded in 2015 and resulted in about $1.4 billion in obligations.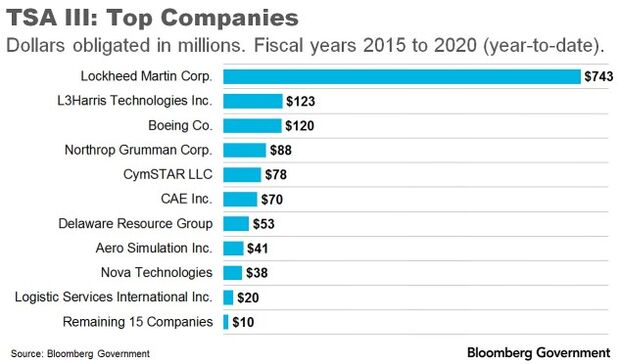 Although 25 companies were awarded slots on TSA III and TSA III SB, only 13 have obligations beyond the initial $1,000 minimum guarantee. The top vendor is Lockheed Martin Corp. with $743 million in obligations.
Small businesses accounted for $232 million of the spending obligations, according to Bloomberg Government data.
What's Ahead
Despite an increase in the estimated ceiling value on TSA IV to $25 billion from the $20.9 billion on TSA III, Bloomberg Government expects a continued spending of about $2 billion. Based on the complexity of the training systems, it's likely that about three-quarters of TSA's IV spending obligations will flow to large businesses.
Companies interested in TSA IV can use BGOV by clicking here to analyze spending on the predecessor contract's task orders or click here to analyze the 10 task orders totaling $1 billion million that are set to expire after Dec. 31, 2022, when TSA IV is set to be awarded.
To contact the analyst: Robert Levinson in Washington, D.C. at rlevinson@bgov.com
To contact the editor responsible: Daniel Snyder at dsnyder@bgov.com
Stay informed with more news like this – the intel you need to win new federal business – subscribe to Bloomberg Government today. Learn more.