After Scorning Africa, Trump Needs Its Help on Global Mail Rates
Votes from a coalition of African nations including some that President Donald Trump was accused of treating with scorn will determine whether the U.S. remains past October in the United Nations organization that regulates global mail delivery, industry consultants said.
Representatives from 192 countries plan to meet in Geneva Sept. 24-25 to address Trump's decision last year to withdraw from the UN's Universal Postal Union unless several conditions were met; primarily that the U.S. could set its own rates for the delivery of small packets that make up the bulk of e-commerce.
Trump's concern is the below-cost rate the UPU requires the U.S. Postal Service to charge a foreign postal operator to deliver its packages. That rate, far lower than the domestic delivery rate charged by the USPS, puts American manufacturers and retailers at a disadvantage.
Multiple rate proposals backed by different countries have been circulated in advance of the Extraordinary Congress in Geneva, where each of UPU's 192 member countries gets one vote regardless of size. If a proposal acceptable to Trump wins, the U.S. will remain in the UPU, otherwise it will leave.
"At the end of the day, the U.S. simply seeks a system of self-declared rates within the UPU," said White House trade adviser Peter Navarro in an op-ed published in the Sept. 11 Financial Times.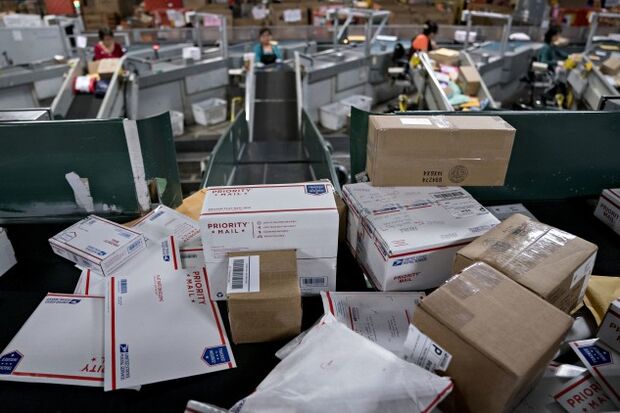 Alphabet Options
Three proposals, called Options A, B, and C, were circulated after the UPU announced it would hold the special meeting of its members for only the third time in its history. Added to the mix, the U.S. intends to offer a key amendment, while two variations of Option C are now circulating as well.
Complicating the calculus is that proposals can be amended and changed during the Congress. Navarro is leading the U.S. delegation to Geneva and will determine whether the Trump administration can accept the option ultimately adopted.
Option A, backed by countries such as China interested in maintaining the status quo, would continue the incremental rate increases adopted earlier by the UPU. The Trump administration considers it a nonstarter.
Option B, most desired by the Trump administration, would allow all postal operators to self declare up to 100% of their domestic rate for the delivery of small packets starting in January 2020. Critics contend it could produce rate shock and market loss from sudden price spikes across the globe.
Option C is a middle ground that would allow postal operators to eventually get to 70% of their domestic rate through percentage increases each year from 2021 through 2025. The U.S. has proposed an amendment to Option C, nicknamed "America First," that would allow it to impose the 70% ceiling rate on July 1, 2020.
Brazil, supported by Italy, is offering an amendment to almost double the annual percentage increases in Option C, which would shorten the transition period to the 70% ceiling rate for most countries. It's referred to as the "C-plus" proposal.
France and Germany, supported by China, have proposed an amendment that would cut almost in half the annual percentage increases in Option C, which would prevent a large number of countries from reaching the 70% ceiling rate by 2025. It's referred to as the "C-minus" proposal.
Africa in Driver's Seat
Voting blocs have formed depending on whether a country's postal operator sends out (exports) or takes in (imports) more e-commerce packages.
Exporters, who want the UPU to keep rates low, are China and Singapore, but also European countries with extraterritorial offices of exchange—postal operations in a foreign country—including Germany, France, Switzerland, the Netherlands, the U.K., and Belgium.
The big importers, which want higher rates to cover their costs, are the U.S. and Canada, but also South American countries, Australia, New Zealand, and the Nordic countries including Norway, Sweden, and Finland.
That leaves a bloc of roughly 35 to 40 African nations, informally led by UPU Director General Bishar Hussein from Kenya, in an influential position heading into the votes. The administration thus needs support from countries that Trump was reported to have crudely disparaged during a discussion on immigration in January 2018. Trump denied making the comments attributed to him.
Trump Denies Calling Haiti, African Nations `Shithole' Places
Trump's Derogatory Comment Dogs Tillerson's First Day in Africa
"The outcome is unclear, due in large part to uncertainty about the intentions of developing countries which constitute a majority of the UPU members," attorney and postal policy consultant Jim Campbell recently told the Lexington Institute, a think tank that supports a strong national defense and a limited role for government.
To contact the reporter on this story: Cheryl Bolen in Washington at cbolen@bgov.com
To contact the editors responsible for this story: Paul Hendrie at phendrie@bgov.com; Robin Meszoly at rmeszoly@bgov.com