New York City and Los Angeles, worried that a Senate self-driving car bill would make them hand over control of their streets to the federal government, have found a powerful ally: Minority Leader Chuck Schumer (D-N.Y.).
The AV START Act (S.1885), pushed by John Thune (R-S.D.) and Sen. Gary Peters (D-Mich.) would create a national framework to regulate self-driving cars and trucks lighter than 10,000 pounds, such as those developed by companies including Ford Motor Co.and Alphabet Inc.'s Waymo LLC. Thune heads the Senate Commerce, Science and Transportation Committee.
The bill would preempt state and local authorities from regulating the design, construction, and performance of autonomous vehicles and delegate that authority to the federal government. Cities worry the preemption language will not give them sufficient control over the emerging technology to manage traffic congestion and enforce local safety regulations.
Proponents once thought the bill, approved by a voice vote in committee in October, would advance through the Senate by Christmas 2017. The measure has stalled, with no resolution in sight. Schumer's role as the Senate's top Democrat may add to the hurdles for a bill that has broad support on both sides of the aisle.
"This was a bipartisan bill negotiated very carefully with all of the stakeholder community—Democrats and Republicans—and recorded out of committee by a voice vote. We're willing to work with anyone who has an issue to try to resolve it, but this sort of blanket opposition will become I think difficult for them to sustain because this stuff is moving," Thune said about the quickly advancing self-driving technology in an interview with Bloomberg Government.
New York, N.Y.
New York City Mayor Bill de Blasio has been an outspoken critic of the rapid deployment of self-driving technology. DeBlaisio's concern about AVs comes from lessons the city learned the hard way about another transportation sector disruption: the arrival of ridehailing services like Uber Technologies Inc. and Lyft Inc..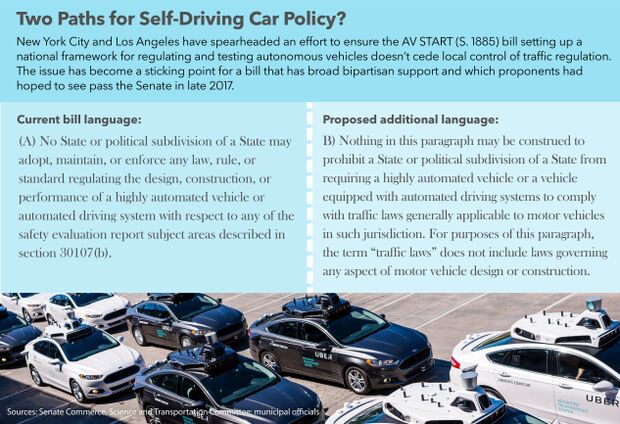 New York, like many other cities, is confronting increased road congestion at the same time as transit use is falling. Total car passenger trips in New York city increased 15 percent between 2013 to 2017, despite declining taxi trips in that time period, according to a December 2017 study. The number of taxi and ride-hailing vehicles in the city's center increased by 59 percent during that same period.
With autonomous vehicles expected to show up first in fleets of taxi-like vehicles, the prospect of having local regulation preempted has left leaders in major cities like New York worried.
"As the car becomes the driver, Congress should carefully consider how introducing fleets of AVs will play out on city streets," Brittney Kohler, transportation and infrastructure program director at the National League of Cities, said in an email to Bloomberg Government. "Cities have been piloting [autonomous vehicles] for a while now in close collaboration with our partners, but the AV START bill is a huge shift that expands the testing environment to every road."
Coast to Coast
New York approached its congressional delegation about getting changes made to the bill. Schumer stepped in around February, according to officials in New York City Hall and the Los Angeles Department of Transportation. The Democratic leader suggested New York work with the Auto Alliance—the trade group representing big automakers with factories in the United States—to craft possible changes to the bill text. New York, with language in hand, approached Los Angeles, which, in turn, organized several other large California cities, including a consortium of Bay Area ones, officials in the two cities told Bloomberg Government.
The officials spoke on condition of anonymity to discuss internal policy considerations and ongoing negotiations. Shumer's office did not respond to repeated requests for comment.
Schumer's involvement has been muted, though, compared with the likes of Sen. Dianne Feinstein (D-Calif.), who one lobbyist described as "carrying water" for LA. Even New York's junior senator, Democrat Kirsten Gillibrand, has had a higher public profile on the issue than Schumer. She signed a letter with Feinstein and three other senators in February calling for changes to the Senate's framework for self-driving technology.
Schumer has left the negotiations on behalf of New York to Gillibrand, who is working with Commerce Committee staff to massage the bill to address city concerns, according to congressional aides, industry lobbyists and New York and L.A. city officials.
Preemption Problem
Cities, states, and localities want to know they can tell self-driving cars to obey local traffic laws, such as school zone speed restrictions, and can control testing on increasingly congested city streets.
Self-driving carmakers, advocates, and their federal proponents want to make sure cities, states and localities don't hold the technology to a tougher standard than human drivers.
The bill language as written accomplishes this balance, Commerce aides and the bill's industry supporters told Bloomberg Government.
"You should be able to regulate speeds around schools or road speed limits. But if you are creating a separate set of rules for AVs and regular cars, you're not regulating the speed of the road, you're regulating the AVs," Amitai Bin-Nun, vice president of autonomous vehicles and mobility innovation at Securing America's Future Energy, said in an interview.
Speed limits are one thing, but cities don't think it is clear that they can require driver tests of self-driving cars. Currently states control the process for licensing drivers, but when the driver is a computer, it raises the question of whether a state should require the computer to pass a driving test before the car can drive on public roads. City officials do not believe they would have that authority under the bill.
"Cities who understand the ins and outs of testing AVs on city streets have worked with Commerce staff to find the right balance in the bill to avoid a patchwork, but also confirm cities' continued role," the League of Cities' Kohler said. "But important questions still remain which is why negotiations are still ongoing."
Proponents of the current bill believe regulating the safety of the technology, which is what a driving test is meant to do, is the traditional role of the federal government and should remain as such.
"In a regulatory vacuum all sorts of agencies and municipalities are finding ways to horn in on the debate," Bin-Nun said. "And that's just not the traditional role. The taxi and limousine commission is not set up to regulate autonomous vehicles. Taxi regulators are weighing in on when AVs are safe and I don't think they should be doing so."
The Road Ahead
Thune and Peters each floated the bill for unanimous Senate consent in November, which is when they became aware of Feinstein's concerns. Since then they've been negotiating possible changes.
Schumer's entrance into the negotiations does not change things, in Peters' mind.
"Right now, under unanimous consent, everyone has equal say when it comes to trying to get it through," Peters said. "Obviously if he's happy with the bill, it's good to have him on my side because he could help push it so we could actually get a vote."
One strike against the self-driving car bill is there is no deadline to force its consideration, like there is with annual spending bills, for example. That may mean it languishes unless it gets attached to a must-pass piece of legislation. Peters and Thune say they are still looking for possible compromises that would allow the bill to be passed without even a roll call vote.
"You want to treat everybody and their views seriously, which I think we have and will continue to do, but ultimately there does come a time when you have to vote on a bill," Peters said. "Perfection is not a standard that any of us can reach."
The bill authors are also looking for ways to move the bill. Attaching it to a Federal Aviation Administration reauthorization bill (S. 1405) is one possibility, but that bill's floor prospects, despite a September deadline to reauthorize federal aviation programs, remain murky.
"It would be really helpful to have a deadline. Unfortunately, we don't. We've just got a bill that's kind of hanging out there for people to shoot at," Thune said.